Our Minister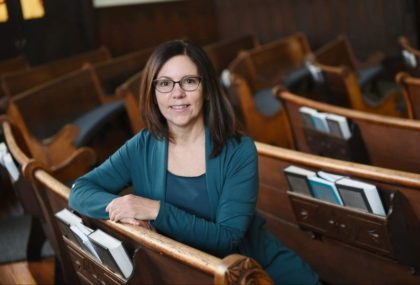 Rev. Dr. Sandra Fees has served as our minister for 15 years. She completed theological studies at Lancaster Theological Seminary where she earned a Master of Divinity degree in 2003 and a Doctor of Ministry in 2018. She holds Bachelor's and Master's Degrees in English Literature from Shippensburg and Syracuse Universities, respectively. Prior to being called to Unitarian Universalist ministry, she worked in corporate marketing communications and nonprofit fund-raising.
She currently serves on the Nominating Committee for the Unitarian Universalist Minister's Association P-K (UUMA Priestley-Kingsbury Chapter), the Community Peer Mentoring Advisory Group at Reading Area Community College, the Penn Street Arts Project, Reading, PA, 2019-2020, and the President's Task Force at Lancaster Theological Seminary. She has previously served locally on the Berks Counseling Center's Board of Directors, as well as denominationally as a UU Good Officer, and co-chair of the Board of UUPLAN (Pennsylvania's statewide legislative advocacy network). Her social justice passions include environmentalism, GLBTQ+ rights, and immigration and racial justice. Rev. Sandra's pronouns are she/her/hers.
Rev. Sandra is a native Pennsylvanian, a pesce-vegetarian, cat-whisperer, and poet. She was selected as Berks County's Seventh Poet Laureate for 2016-2018. Rev. Sandra considers herself a contemplative, and her spiritual practices include hatha yoga, meditation, journaling, and porch-sitting. She resides in the Berkshire Greens neighborhood of the City of Reading with her partner Christopher Keith and cat Shadow.
Newcomers and members alike are encouraged to meet with Rev. Sandra to reflect on their spiritual lives, learn about our religious community, and find ways to deepen their engagement with the congregation.
Her text and audio sermons can be found here.