Weekly News for the week of:
February 28, 2020
Beloved Community and Acceptance – Interdependent Imperfections
February 28, 2021 at 10:30 am
None of us are perfect. We all come with imperfections, growing edges, regrets, hopes, and dreams. Beloved community does not require us to be perfect. It requires us to live in our truth, to embrace the truth about ourselves, and to join each other in our perfectly imperfect lives. Join us this Sunday to learn and explore more.
For Sunday's worship, we are using the Zoom conferencing platform. It is easy to Zoom from a computer, tablet, or phone! Contact our office here to be set our service link and added to our newsletter.
For Sunday's worship, we are using the Zoom conferencing platform. It is easy to Zoom from a computer, tablet, or phone! Here is how you do it: With a computer, smartphone or tablet, click on this link to participate: uuberks.org/zoom-worship   (If it's the first time you're using zoom you may be prompted to download a launcher app).
To connect by phone (audio only):
1) Dial the phone number: 1-646-558-8656
2) When prompted for the "Meeting ID", enter: 999-805-145-23#
3) When prompted for the "Participant ID", enter: #
Please plan to log on by 10:20 or 10:25 am so that you can establish a connection before worship is scheduled to begin. Please note that your mic will be muted and will remain muted for the service. Our service concludes with "virtual coffee hour" when members and friends are unmuted.
If you are in need of a church directory, would like to update your pledge, sign up for Egiving or just have general questions? Please contact our office administrator at office@uuberks.org
Shut Down Berks Vigil & Honk-In
Sunday, February 28, 3:30-4:30pm
Brief vigil at 3:30 pm across from the detention center located at 1040 Berks Road, Leesport, PA
Led by Pennsylvania Council of Churches, Rev. Sandy Strauss
(park in side lot next to the Berksheim; vigil participants invited to join honk-in)
Honk-in—meet at 3:45 pm in side parking lot next to the Berksheim—honk-in to begin soon after
Watch for signs to locate vigil and honk-in
FOR MORE INFORMATION CONTACT s.strauss@pachurches.org
Visit the Shut Down Berks Interfaith Witness Facebook page-Facebook.com/shutdownberks/
Watch this video from the Beloved Conversations Design Team!
Join us for Beloved Conversations Virtual
Registration for Spring Term 2021: February 1 – 26, 2021
Beloved Conversations—the signature offering of The Fahs Collaborative at Meadville Lombard Theological School—is a program for Unitarian Universalists seeking to embody racial justice as a spiritual practice. In Beloved Conversations, we are here to heal the impact of racism on our lives, in order to get free together.

In Fall 2020, we launched a newly reimagined and redesigned Beloved Conversations as an online program. Over 1,200 learners participated in the first "Within" phase. We are so excited to continue, and would like you to join us!

Phases
Beloved Conversations Virtual will be released in three phases:
WITHIN (the individual, personal work we each need to do), launched in Fall 2020
AMONG (the institutional, systemic change needed in our congregations), planned launch in Fall 2021
BEYOND (the work outside our congregations, with our local communities), planned launch in Fall 2022
The first phase "Within" focuses on the internal work that each of us needs to do, as we engage personal exploration of race and our work for racial justice. This work is different for white folks and for Black, Indigenous, People of Color, and other racially targeted groups (BIPOC+)* and "Within" phase will be done entirely in race-based caucuses/courses.

An invitation to BIPOC+* to the Gathering Our Selves course
BIPOC+ work has been a neglected conversation, as much anti-racism work has been focused on the learning needs of white folks. For those of us who identify as BIPOC+, we recognize the need to understand the impact of racism in our lives— particularly our spiritual lives—and the choices we have made to survive.

In this curriculum, we will look at issues such as how and why Unitarian Universalist values matter to us, how race has shaped our personal and communal lives, the dynamics of why and how we stay in the faith, and what a theology for BIPOC+ in a white-dominated society might look like.

Gathering Our Selves will run in two cohorts: one for people who have completed the Fall Term and one for those who are new to the program in the Spring. The two cohorts will have opportunities to come together for worship and connection.
An invitation to white folks to the Un/Learning for Liberation course
Wherever we white folks are on the journey toward collective liberation—whether you are just waking up to systemic racial injustice or your heart has been breaking for a long time—you are invited to join us for Un/Learning for Liberation. We will explore within ourselves as individual white people, within our family and community systems, and within the system of whiteness, which has impacted and limited our ability to truly be present with and connected to ourselves and our siblings of color. But we get to choose to be and do differently. Beginning within ourselves.

This is a space for justice-making and spiritual formation, a place where we honor complexity, nuance, and grace. We will bear witness to one another as we engage a process of introspection, honest reflection, and challenge what we always thought we knew or were too afraid or embarrassed to ask. We will learn together about how this system has impacted us and dis-connected us from ourselves and our BIPOC+ kin and how it was implanted in us without our consent. And we will unlearn some of our deeply ingrained habits of perception, thought, and behavior, while practicing spiritual skills for humility, resistance, and solidarity.

Un/Learning for Liberation will run in one cohort, regardless of folks' previous participation in the program. Content will be different in Spring than in the Fall Term.

More Information at Our Website
Go to meadville.edu/beloved to read more about the program. In the Beloved Conversations Virtual section of our website, you can find:
The link to the registration page will be made available on February 1 and stay open until February 26.

Questions? Contact Pat Uribe-Lichty at paturli50@yahoo.com
Please check out our website at
meadville.edu/beloved 
or contact us at
BelovedConversations@meadville.edu
New Day Rising Conference National 2021
Saturday, February 27, 2021, 12:00 pm – 9:00 pm EST
Type of event: Workshop
Email: kcharles@uua.org
Sponsor: UUA Congregational Life Staff Group
Is your congregation ready to take a new step in changing white supremacy culture? Want to learn what your fellow congregations are working on, and how you might apply it at home?
Join a continent of UUs as we explore next steps in creating Beloved UU Communities
On Your Own:
Watch compelling video TED-talk style testimonials from selected congregations around the continent sharing their learnings, hopes and next steps in their quest for racial equity in their congregations
Together on February 27, 2021
Worship ~ Workshops ~ Caucusing
With plenty of breaks
9a-6p PT/10a-7p MT/11a-8p CT/12n-9p ET
Register Now
Do note that youth need to have permission forms signed before they can attend.
Cost will be a sliding scale fee of your choosing: $20/30/40/50.Registration fees are on a sliding scale, based on your assessment of your ability to pay.Those who pay at the two highest levels are making a donation to help those in financial need for this event. Please remember that for a sliding scale to work, we need the same number of people with means to generously pay more to balance the needs of those who can afford less. (This is one way we try to build the Beloved Community!) If you are part of a congregational team of three or more, please pay the lowest fee.
Brought to you by the Unitarian Universalist Association
Workshops Include:
Prework – Congregational Testimonial Videos about work they are doing.
Uprooting White Supremacy inherent in Covenant Building with Natalie Briscoe, Cameron Young, Christine Purcell
Covenant, Evil and Labor: A Preface of Welcome for Young Folx of Color with Sara Green, Tyler Coles, Sana Saeed, Jaidyn Bryan, Rev. Stevie Carmody, Micaela Lattimer
Congregational paths to address both Climate Crisis and Systemic Oppression with Rev. Karen Brammer
Now What? For Congregations with 25% or more BIPOC members with Rev. Erica Baron
Staying the Course – Navigating Pushback, Fatigue, and Reactivity in Dismantling White Supremacy with Hilary Allen
Leading Anti-racism In Our Congregations As Black, Indigenous, and People of Color with Rev. Sunshine Wolfe. Offered in both workshop slots.
There's an Elephant in the Room: How to Have Difficult Conversations in Church with Rev. Tandi Rogers. Offered in both workshop slots.
The 8th Principle with Paula Cole Jones. Offered in both workshop slots.
Organizing for Liberation: Developing an Organizing Strategy Rooting in Anti-Racism with Rev. Michael Crumpler and Organizing Strategy Team
Imani Ritual with Ayanna Kafi Stringer and Rev. Duncan E Teague
Foundations of Community Building with Shannon Harper
The Congregation of Our Dreams with Janice Marie Johnson
Song Writing with Lea Morris
 Copy the Google (ICS) or Outlook (ICS) link address to subscribe to this event (or download the file to import it) in a program which supports the iCal format.
For more information contact Elizabeth Bromley at elizabeth.bromley@uuberks.org
Quote of the Week –  "Our lives begin to end the day we become silent about things that matter." – Martin Luther King, Jr.
Extreme economic inequality leads to political inequality which is a large problem for our democracy!  Let's change that nationally
and in Pennsylvania!
Video (4) – Robert Reich on what election day revealed about progressive policies.
Report – Billionaire Wealth vs Community Health is a report from Bargaining for the Common Good, Institute for Policy Studies, and United for Respect discusses how to protect essential workers from pandemic profiteers.
Fighting for the 'Democracy We Want'  in Pennsylvania is a long term project 
to reform legislative rules, reform redistricting procedures, improve voting rights/participation, rminimize the role of money in campaigns, securing the vote with hand-marked paper ballots and reform governmental ethics .
Article – Fair Districts PA explains why legislative rules reform is needed.
Video (18) – Fair Districts presents 'Dysfunction By Design' and excellent look at why the legislative rules are at the root of the legislative dysfunction.
Video (98) – a long but informative town hall on judicial gerrymandering.
Fair Districts opposes House Bill 38 to elect state judges by district
rather than by the entire state.
Infographic page on why HB 38 is not a good idea.
**** Action to let your PA State Representative know you oppose HB 38
Upcoming events
Good Government PA calendar with listing of virtual and in-person events across PA and nation.
Tues. Feb. 2, 7 PM – February UUJusticePA Good Government 1st Tuesday
Conference Call – Click Here to join. Consider the zoom video feature.
Thurs. Feb. 4, 7 PM – Fair Districts PA Monthly  Conference Call (1st Thurs)
Fri. Feb. 26, 7:30 PM – UUJusticePA presents "The Democracy We Want Series 2021: What Would That Look Like". Sign up info coming in early Feb.
Tues. March 2, 7 PM –  All UUJusticePA 1st Tuesday Conference Call  -Click Here to join. Consider the zoom video feature.
Thurs. March. 4, 7 PM – Fair Districts PA Monthly  Conference Call (1st Thurs)
Member Info website
Did you catch the presentation at the December 2020 Congregational meeting on our new private Member Info website:  member-info.uuberks.org ?  Do you still have questions or need some help accessing it? Use the link below to register for either a 1-on-1 help session and/or an introduction to the website via Zoom.  You can also use the form to just post a question about the  private Member Info website.
https://uuberks.org/member-info-signup
Here are a few common questions and answers:
Why do I have to login to access this site?  This site is private and the information on it is for members only. By having a login, we can restrict access to those individuals that are FUUBC members.
I attend services all the time but I am not a member. How do I become a member?  We have a page on our public website with all of the details.  See https://uuberks.org/connect/become-a-member/ 
I have a Google account, but I don't remember my password.  (1) Go to the Google login page at accounts.google.com, (2) enter your email address, (3) click on the "next" button and (4) click on the "Forgot password" link.
UU Berks Technology Hints
Did you know that we record every church service that we host on Zoom? We use our UUBerks YouTube account to host those recordings.
To find the recordings…
1) Open up a web browser (Chrome, Firefox, Safari,…) and navigate to our home page at  uuberks.org
2) Once the page opens, click on the (2) Service Archive button. It is in the green box on the right side of the screen
3) The Past Worship Services page will open in the browser window.  The services are sorted from "newest" to "oldest".  Click on the title of a service to find the video.

4) A dedicated web page for the service will open.  At the bottom of the page, there is a video widget that you can use to view the recording. Click on the play button in the middle of the video widget to watch the video.
5) Once the video starts to play, you will see some buttons in the bottom of the video if you move your mouse cursor over the video widget. Click on the (1) CC button to turn on closed captioning, and click on the (2) Expand button to make the video full screen .  There is also a pause button (not shown in the image below) , in the lower left-hand corner that you can use to pause the video so that you can refill your coffee cup.

If you have any questions about this hint or other technology issues, contact UUBerks IT Services at g.it.services@uuberks.org
Closed Captioning Now Available 
Closed captioning is now available for Sunday service. Please note that not all Zoom virtual meeting rooms/meeting IDs have closed captioning. You will need to be using a current version of the Zoom Client App (the latest version is 5.4.1).
Each participant will be able to toggle closed captioning on/off if the Zoom meeting room has it enabled.
To turn on closed captions, click on the "Closed Caption" button in the Zoom menu bar and then select "Show Subtitles."  Once it is turned on, you can adjust the font size by clicking on the "Closed Caption" button again and selecting "subtitle settings".  Note: if the button doesn't show up on your Zoom menu bar, most likely closed captioning is not available in your current Zoom virtual meeting room.
We have created a short YouTube video to demonstrate how to use Zoom closed captioning. Here is the link to the video:    https://uuberks.org/zoom-cc
Contact g.it.services@uuberks.org if you have any questions.
Are you having trouble connecting to Zoom services?
We have established a Zoom service tech line if you are having trouble logging into our Sunday service. If you do not get an immediate answer, leave a message and your call will be returned momentarily.Dial 484-925-1684.
Giving Options in a time of coronavirus
We know that these are uncertain times and that some of our members and friends are being impacted financially as well as in so many other ways. For those who are able to make a gift or continue to contribute to their pledge, we have added some options. In addition to accepting checks and signing up for electronic giving, you can also now make your gifts from the website and via text. Here are the details:
You can now give online on our website UUberks.org by clicking on the online giving tab or clicking
here
You can also give by downloading the GivePlus app on google play and the App store below. You can easily locate our church by zip code 19602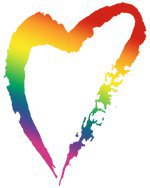 If you have the teal hymnal at home, you might notice hymn number 1014 was originally published with a name other than "Answering the Call of Love". You see when Singing The Journey was published the song "Standing on the Side of Love," was a new song. It was a song inspired by the UUA president responding to the news of the day. When Rev Bill Sinkford heard that President Bush was calling for a constitutional amendment to ban gay marriage, Rev Sinkford took a call with a reporter to answer back "We are standing on the side of love."
We know that love has more languages than words alone. So too do we need to honor a composer's choice to change the words of a song and also find other ways to make this choice live. What languages (physical touch, quality time, receiving and giving gifts, acts of service, words of affirmation) do you have at your disposal to answer the call of love and witness everyone in our community?
Take this song in and respond for yourself – how are you "Answering the Call of Love" this month? Click to listen here
Find out more information and the full lyrics here
---
by nadine j. smet-weiss,
spiritual director
live
the
dream
beloved
community
as daily
practice
doing
rising
from the heart
of being
inspired
and
inspiring
human
wholeness