Weekly News for the week of:
October 23, 2022
Different Kinds of Courage
October 23, 2022 at 10:30 am
Paula Gribble
It takes all kinds of courage to be brave. The kind that makes you take action, the kind that leads you to change, and the kind that means you have to wait. The waiting kind can often be the hardest. Join guest speaker Paula Gribble for an exploration of these different kinds of courage, along with the powerful story of one of our Universalist forebears, Thomas Potter.
BIO
Paula Gribble is a long-time UU religious professional. She currently serves the UU Church in Cherry Hill as the Director of Lifespan Faith Engagement, holding portfolios in lifespan faith development, welcoming and membership, and leadership development. Paula also serves the Liberal Religious Educators Association (LREDA) as co-president of the Joseph Priestley Chapter. She has worked previously as a professional singer and actress. Paula lives in Medford, NJ and adores her family and 3 children (who aren't children anymore!)
---
To attend on site, FULL VACCINATION STRONGLY RECOMMENDED: FUUBC strongly encourages all those who can be vaccinated to be vaccinated, including boosters as appropriate.
MASKING RECOMMENDED: FUUBC strongly encourages attendees at worship services and other large gatherings to wear masks.
To attend by Zoom, click on this link: uuberks.org/zoom-worship. (If this is the first time you're using zoom, you may be prompted to download a launcher app).
To connect by phone (audio only):
1) Dial the phone number: 1-646-558-8656
2) When prompted for the "Meeting ID", enter: 921 4271 5512#
3) When prompted for the "Participant ID", enter: #
Please plan to arrive or log on by 10:20-10:25 am to enjoy the gathering music, and, for those on zoom, to establish a connection before worship is scheduled begins. Zoom participant mics are muted throughout the service.
October's Share the Plate:

This month's special plate collection will be donated to Safe Berks, formerly Berks Women in Crisis. Safe Berks provides a safe haven and ongoing support system for victims of domestic violence and sexual assault.
If you would like to donate to Safe Berks please make a check out to FUUBC with SafeBerks in the memo line. Checks can be dropped in the box in the gerber room or mailed to the church at 416 Franklin Street, Reading, PA 19602
This Weekend:
From SoulMatters: Tonight's story is a song and a story all in one!  On Sunday you'll hear more about Thomas Potter. One of our Universalist fore-fathers.  John Murray was the first Universalist Minister in America.  Learn the song that Unitarian Church of Oklahoma City's DRE, Tim Atkins, made a video of with story words by Rev Eugene Navias.

Learn and sing along John Murray Song karaoke  find out more about John Murray here.
SUNDAY
9:45 AM :Adult RE 
Faith Formation Fall – In the fourth week of our fall series, we'll continue our rotation of discussion topics. Ginny Chudgar & Be Young lead the discussion. Drop in participants welcome.
9:45 AM: Children's RE  
Elementary Ages:  Onsite/Online, email Erin Connolly by Saturday noon if you'll be attending online
On site: back in 2nd floor RE kidspace * teens may help, let us know you'll be coming

RE Hangout – creating our song together with Mr Dan Hauk and continuing to craft our trunk or treat theme with Ms Erin 
10:30- Worship Service- All Ages
We explore different kinds of courage to do or not do with Cherry Hill DRE, Paula Gribble. 
Monday – Thursday 
Weekly posts on our covenanted RE Facebook page
https://www.facebook.com/groups/UUBerks.RE.page/?ref=share
check out our Remind classroom.
If you need to signup link here: remind.com/join/refuucbc
RE Registration for 2022-2023
Registration is open now for our program year. We have some exciting things planned and look forward to what will emerge as we seek, nurture and serve together this year! To let us know how you plan to engage with our programs this year please visit. https://uuberks.org/Registration.
Registered families will receive occasional mailings including birthday cards from the church, invitations to events, seasonal updates on what we're programming together this year.
Our offerings  depend on the congregation and on participating families to happen. If you want to be part of shaping programming or can lend a hand to help make them happen, please email Ebee: director.religious.education@uuberks.org. 
The food bank will be moving back indoors starting this October 15th (inside the church) at 8:30am and yes it will take place on the 3rd Saturday of the month. So come out and help out with a great cause. We will be having an optional training session this Sunday (October 2nd) at noon if you want to learn more and get a better idea of what we do at the food bank. Here are the dates for the rest of the year.
        Saturday November 19th
        Saturday December 17th
If you have any questions or would like to volunteer but cannot me here on 10/2, please contact Mark Burton at selliott42@comcast.net
Photos from "Out in the Park!"
It was a great day to be out at First Energy Stadium for the Out in the Park! event. The sun was out on a cool Fall day and we think everyone had a fun time. We are looking forward to next year. If you are looking for photos from the event, here is the  link to that page. Feel free to download, print and share the photos!
We are currently looking for anyone who is interested in volunteering to be a Greeter and when the time comes- to be an Usher.  This is a great way to get to know your fellow members or get to know them better   and of course- being of service can provide comfort to you and others!!
Currently we have a group of  approx 10 of us that rotate and fill in when we can but if we can get another 10 volunteers- then this will mean you would be a greeter every 6 -8 weeks and provides back up for our busy summer months.
We like to have two greeters at each service & when RE sessions are occurring on Sunday's- one greeter arrives at 9:40 to greet those arriving for RE at 9:45 & the 2nd greeter arrives at 10 am to be available for those attending the Sunday service.
Please take time to consider this and please contact me, Joanne Koehler at jkbluesky@icloud.com or my cell 610-914-8827 if you are interested or have any questions.
Solar Team 


Have you noticed that your electric bill has gone up? The Pennsylvania Public Utility Commission (PUC) authorized the increase in June and those new rates are set to take effect this month.  Our church uses Met-Ed and they raised the cost by 18.4%.Maybe this is a good time for us to offset our electric usage by adding a solar panel array on the church roof?

Solar power has been an ongoing interest of the Building Keepers for a few years. With our church's strong commitment to environmental and social responsibility, we at FUUBC want to do our part. The Building Keepers are looking for volunteers to help with a temporary ad hoc Solar Team Subcommittee to evaluate (1) adding solar panels on the church buildings and (2) upgrading our natural gas heating systems to electric heat pumps.  To do this, we will have a series of meetings (both in-person and/or virtual) to evaluate the different proposals from solar/HVAC companies and then prepare a final proposal to take to the M&O Team for final acceptance. Contact Frank Wilder at frank.wilder@uuberks.org if you are interested.
Update on Parking Options
Free parking is available on Sundays on the street and in the library parking lot.
The parking garage across the street (4th and Cherry streets) has changed to a pay by app system. The app is called ParkMobile. It can be downloaded in the apple store or on the google play app. At this time we are unable  to offer discounted parking vouchers.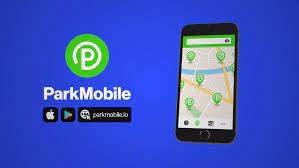 Are you having trouble connecting to Zoom services?
We have established a Zoom service tech line if you are having trouble logging into our Sunday service. If you do not get an immediate answer, leave a message and your call will be returned momentarily. Dial 484-925-1684.
by Rev. Amy
October's theme is Courage
Growing up unchurched, I knew what spirituality felt like.  But the first time I felt like mine fit into an existing, established way of thinking or believing was when I studied Existentialism.  In the philosophy and practice of existentialism we learn that we are always in a state of becoming, that, while there is free will, life is in our own hands, and it takes work.  Humans are responsible for, and agents of, the creation of what gives our lives purpose and meaning.
It all seems rather heady and big words get used, like ONTOLOGICAL, which means the study of existence–that if we can imagine something, it exists.  There are many writers and philosophers who are existentialists—Rollo May, Karl Jaspers, Kierkegaard, and Chicago theologian Paul Tillich, to name a few.
When I read Tillich's "The Courage To Be," things fell into place for me.  It is courage that drives us. We might possess intelligence or talent or even privilege, but courage is how we exist.  Without the courage to simply be, to exist, nothing else matters.
It takes courage to face each day.  Every day determines the purpose of our lives, not because God or government or school or anybody else tells us what to do.  We have the courage within us to find purpose in our thoughts and actions, and courage to make meaning of that which happens in our lives.  Courage is not just a great theme for the month but a spiritual practice for many.
Courage to be who we are is real and it promises an existence we can truly embrace as our own.  You might be an existentialist and not know it!
In peace
Rev. Amy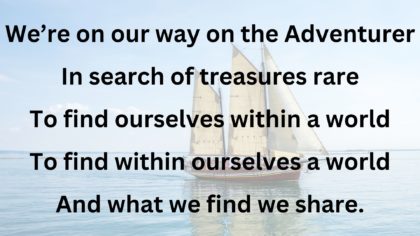 For hundreds of thousands of years singing and songs have been a tool to bolster our courage.
Another way we can "have heart" when faced with a path that feels daunting is to use curiosity and a spirit of adventure!
In September we sang a song written many years ago by children from Adelphi College's Children's Center for the Creative Arts.
Listen to our congregation sing "The Adventurer"
Read these words.
We're on our way on the Adventurer

In search of treasures rare

To find ourselves within a world

To find within ourselves a world

And what we find we share.

– from the Children's Center for the Creative Arts, Adelphi College, 1982

– thank you to Emily Bengels, director of music for First Unitarian Universalist Fellowship of Hunterdon County in Baptistown, NJ for sharing this song with me.
nadine j. smet-weiss
spiritual director
have you
looked
in the mirror
lately
come
face to face
with the truth
of you
marvelous
miracle
of being
daring
to become
your dream