Weekly News for the week of:
February 26, 2023
---
Each year we look at the financial support as one aspect that keeps the congregation thriving.  This year the theme of Pledge Drive is "It's all of us" and after a great service (right?!?) stay for the Stewardship season kickoff event.
---
To attend on site, FULL VACCINATION STRONGLY RECOMMENDED: FUUBC strongly encourages all those who can be vaccinated to be vaccinated, including boosters as appropriate.
MASKING RECOMMENDED: FUUBC strongly encourages attendees at worship
services and other large gatherings to wear masks.
To attend by Zoom, click on this link: uuberks.org/zoom-worship. (If this is the first time
you're using zoom, you may be prompted to download a launcher app).
To connect by phone (audio only):
1) Dial the phone number: 1-646-558-8656
2) When prompted for the "Meeting ID", enter: 921 4271 5512#
3) When prompted for the "Participant ID", enter: #
Please plan to arrive or log on by 10:20-10:25 am to enjoy the gathering music, and,
for those on zoom, to establish a connection before worship is scheduled
begins. Zoom participant mics are muted throughout the service.
Pledge Drive Kick off Lunch- This Sunday!


Everyone is invited to the Pledge Drive Kick Off Luncheon after church in the Gerber Room THIS SUNDAY, February 26 at noon.  Plan on spending some time in fellowship with your congregation.
This Weekend:
Tonight's Story is Thank You, Omu by Oge Mora.
Everyone in the neighborhood dreams of a taste of Omu's delicious stew! One by one, they follow their noses toward the scrumptious scent. And one by one, Omu offers a portion of her meal. Soon the pot is empty. Has she been so generous that she has nothing left for herself?
SUNDAY
9:45 AM :Adult RE 
In Person: gerber room meeting room 

Faith Formation – This week Adult RE explores the following questions: How have we were raised religiously? In what way have we changed since joining our congregation?
9:45 AM: Children's RE  
Elementary Ages:  Onsite/Online, email Erin Connolly by Saturday noon if you'll be attending online
On site: Kidspace Classroom 2nd floor * teens may help, let us know you'll be coming
Children's RE – Love takes action!  We'll have a morning of action – creating succulent planters with our time together and later in worship serving as ushers! 
10:30- Worship Service- All Ages
We explore how we become a beloved community.    
10:30 –  Youth Group – (make up from last week)
Grades 7th – 12:  Onsite 
On site: back chalice house.  Gathering by name tags cart before start.

ALL 8 fifth session: this year we dive into all 8 principles through art making and brain storming.  Sunday's session will focus on the 6th principle (rescheduled session from 2.12). 
10:30 – Our Whole Lives: OWL, 4-6 
Session 3 of 10:  This ten-workshop curriculum is designed to help children ages nine through twelve to gain the knowledge, life principles, and skills they need to understand and express their sexuality in holistic, life-enhancing ways. Like the other Our Whole Lives programs for different age groups, this comprehensive, developmentally appropriate program introduces key topics like values, body image, gender and sexual identity, peer pressure, and healthy relationships with sensitivity and inclusiveness, yet without specifically religious doctrine or reference. There is a mandatory parent/child orientation.
Monday – Thursday 
Weekly posts on our covenanted RE Facebook page
https://www.facebook.com/groups/UUBerks.RE.page/?ref=share
check out our Remind classroom. 
Sunday Volunteers: 
Greeters: Lauren & Jake Fritz
Ushers: Dennis Williams & Lauren Fritz
Coffee Crew: Dave and Wendy Wentzel
Contemplative Companions
Join us on Monday 3/6 @ 7:00pm via zoom when we will gather for contemplative reflection and sharing around this month's theme of vulnerability. For further information, including the zoom link, contact Nadine.
Clothing Drive
Valentine's Month. We are wearing our hearts on our sleeves, pants, hoodies, socks, winter wear, boots, shoes, anything adults or children don. Keep this in mind as you sort through your closets and bins. Our collections will go to Hope Rescue Mission and Lighthouse to help housing compromised women, men and children in our own local community.
While this is not a Shared Plate commitment, Lighthouse and Hope Rescue Mission asked for our help in caring for unhoused children, women, and men in our own local community. Clothing can be left in the marked bins in the Gerber room.
Attention Giant Shoppers! Did you know you can shop at Giant and make money for the Church at no cost to you?
FUUBC is part of the Giant charitable grocery scrip program that gives 10% of all gift cards sold back to our church. You can purchase cards as needed or sign up for a monthly gift card order that will be sent directly to your home the first week of each month.
When you receive your order you will also receive a return envelope to mail your check to the church. Checks can also be dropped in the Gerber room drop box or in the plate collection. Checks should be made out to FUUBC with giant card in the memo line.
If you would like to purchase Giant cards please return the form below to Melissa at office@uuberks.org. One time cards can also be purchased from Melissa at coffee hour twice a month.
Giant cards are available in $50 and $100 increments.
Save the Date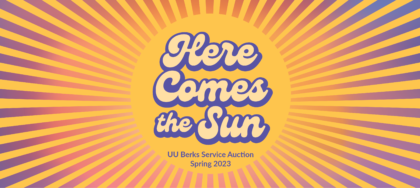 Mark your calendars: Our FUUBC 2023 Service Auction is on Saturday, April 1st.  This year, the live auction is an in-person event!!! But just like last year, we will be using the Auctria website to host the silent auctions. Watch the Univoice for more details in the coming weeks.
Here is the link to the auction website: https://uuberks.org/service-auction
We are currently taking donations for the auction: service auctions only work if there are items to bid on and people participate. If you click on the link above, you will be taken to our auction website. Once the home page loads, you will see a menu across the top of the page (look for the line with "Home", "Donation Ideas", "Donate an Item",…).  To make a donation, click on the "Item Donations" link on the menu and a new page will open. The top of the page has a list of people that have made a donation. If you scroll down the page a bit, you will see the donation form.
On the first page of the form, you can enter the title for your donation (example: "1 hour of weeding"), a short description and some other details about the donation. Notice the red asterisks next to the title entry field: the asterisks signifies that the field cannot be empty. On the first page, the "Title" is the only required field.
When you click on the "Continue to item images" button at the bottom of the form, you will be taken to a page where you can upload a picture of your donation. Click on the "select files to upload" link in the middle of the page to add a photo from your computer. We will use the photo in the catalog to help advertise your item.  Photos are optional: you do not have to perform this step.
When you are ready to move onto the next page, click on the "Continue to donor details" button on the bottom of the page and the donor detail page will open. There are only 2 required fields on this page: your name and your email address. You may want to also include your home address information just in case you purchase something at the auction that will be delivered.
Click on the "submit donation" button at the bottom of the page to submit your complete donation. A short time later a member of the Service Auction Committee will review your donation and send you a confirmation email. If you would like to donate an additional item, click on the "Donate another item" button on the bottom of this page: you will be taken back to the first page of the donation form.
Finally, the auction needs you! This is your time to share items to bid on and join in to make it happen.  Find an area where you can help and sign up here:  UU Church Service Auction Helpers – April 1, 2023  Questions and suggestions? Email g.service.auction@uuberks.org   Let's make this another great auction!
Are you curious what it would be like to be with UUs from all over the country and continent, right in our backyard?   Make sure to register for General Assembly happening this June from the 21st – 25th!  You can register for a day, a few days or full meeting.  Registration prices for onsite and online participation increase starting March 1st.  Check out https://www.uua.org/ga for more information.
Solar Panel System

Dave Wentzel and Frank Wilder had a meeting with the City of Reading's One Stop committee on Feb 9th. These are Zoom meetings on Thursday mornings where you can meet with all the building related departments at the same time. We mainly wanted to meet with them to make sure we don't have to worry about any Reading Historic District concerns. Here is a short summary of what we learned:
Zoning – No issues for zoning; a Zoning permit will be required
Planning – The project does not trigger Land Development
Historic – Though not in an historic district, please take care with mounting the array on historical buildings and do so as discreetly as possible.
Building – Signed and sealed plans are required for building, mechanical, plumbing, and electrical systems.  The professionals completing this work need to be licensed with the City of Reading.  Permitting will be required through the Building & Trades department.
Fire & Safety – No issues at this time.  The installation company will know to match NFPA (National Fire Protection Association) standards.We don't.  I attached the meeting summary provided by the city.
We shared the details with our solar installer Solar States. They were happy to hear that we don't have to get permits from the Historic department: they can be challenging when you are adding current day technology to a historic building and have concerns about aesthetics.  We should have a set of engineering drawings for the project in the next few weeks. If you have any questions, send us an email at g.solar.team@uuberks.org.  Watch the Univoice for updates.
The Solar Project Team
Parking Update
Reading is changing its street parking procedure from meters to app only payments. Currently parking in front of the church is free during the week until further notice. Street parking is always free on Sundays and free parking is also available in the Library lot on Sundays. The parking garage does charge on Sundays. You can pay by the Parkmobile app or at the small payment station near the entrance of the parking garage (near the stairs)
Our theme is love. Even though February is all about hearts and Valentines Day,the love on my mind is not flowery or romantic. The love on my mind is an action more than a feeling, and sometimes it looks more like hard work than pleasure.
When we say to someone dear, "I love you" it is not just a feeling, it is a statement of intention. When I tell one of my kids that I love them, it also means that I extend that love unconditionally, that sometimes I will push them into discomfort for a greater good, and that I will fight adversity for them or with them, because of my love for them. It is an action word.
Around this congregation that is so well loved, what are some of the love actions you see or know about? What active ways do you love UU Berks? Certainly the Building Keepers love the building. One might not equate love with using tools or free time to make an edifice safe and beautiful and fuel efficient, but love is  an action word there.
Serving on a committee or board, leading kids or adults during RE, signing up to help with worship or coffee hour, and so many other ways to show up; these are gifts we give to our congregation so that we  might belong to the church of our dreams and wishes. Being involved is a commitment of love, to ourselves and to each other. Our feelings of love compel us to action, which strengthen community.
When we say, Love wins, that is what is meant. Actions done from a place of love will always be a win/win situation, not part of a zero sum game where if somebody is being loved it means somebody else is not. Love grows the more it gets used; it is not a limited commodity that should be hoarded.
Whether in your personal life, or at church, or wherever you find yourself in February, show yourself some  care by expressing your love freely, through actions.
Love wins and so do we when we let it grow.
In peace with love,
Rev. Amy
A playlist that love built …
From Your Director of Music Elizabeth Bromley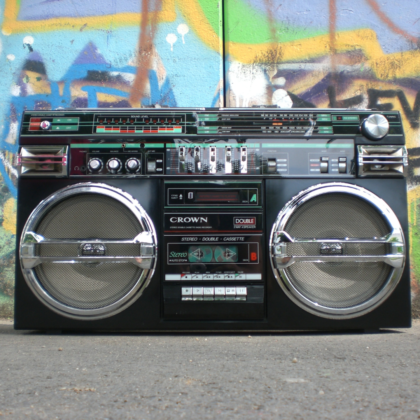 Have you ever been gifted or have you ever gifted to someone a playlist?  Was it to give to a new love?  Was it to share with an old friend?  Was it to help you mark a season of life?
Whether it was through 8-track, tape, cd, or digital link – I bet in whatever format it was created,  it was created from love.
As we live into this month of exploring "the path of love", I'm reflecting on how throughout time, one of the roles music has played is to capture great emotions and actions like love.
For as J.D. McClatchy said "Love is the quality of attention we pay to things"
It takes some attention to choose songs and to listen closely to what someone has shared with you.
I'm curious what your mixtape of your relationship with Unitarian Universalism would be.  What's the first song that you remember?  What song makes you think of UUism?
Here's a sample from mine:
#188 Come, Come, Whoever You Are
#396 I Know This Rose Will Open
Beth Norton's "There Is A Love"
#123 Spirit of Life
Meg Barnhouse's "All Will Be Well"
#311 Let It Be A Dance
Barenaked Ladies' "If I Had A Million Dollars" (were you here for the service in Dec where we sang this?)
#1064 Blue Boat Home
#1009 Meditation on Breathing
Way too many left on the cutting room floor for this list of 10.  Share with me – what would make it on your list this year?
by nadine j. smet-weiss
spiritual director
to thine
own self
be love
what part
you wonder
i have
so many
parts
be love
to that
which
you
find
most
unlovable
in you
and
from that
place
of loving
that part
of you
be love
in
the world