Weekly News for the week of:
June 4, 2023
Of One Inextricable Connection
June 4, 2023 at 10:30 am
Lauren Fritz
When we listen to the visionaries of our time, they come back to the central tenant that we must realize we are one – beyond race, beyond caste, beyond opposing viewpoints. Explore this species dependent, inextricable connection with us today.
Take action to protect yourself from Covid-19 based on local risk conditions.  
Feel free to wear a mask anytime.
---
FUUBC encourages all those who can be vaccinated to be vaccinated, including boosters, as appropriate.
To attend by Zoom, click on this link: uuberks.org/zoom-worship. (If this is the first time
you're using zoom, you may be prompted to download a launcher app).
To connect by phone (audio only):
1) Dial the phone number: 1-646-558-8656
2) When prompted for the "Meeting ID", enter: 921 4271 5512#
3) When prompted for the "Participant ID", enter: #
Please plan to arrive or log on by 10:20-10:25 am to enjoy the gathering music, and,
for those on zoom, to establish a connection before worship is scheduled
begins. Zoom participant mics are muted throughout the service.
This Weekend:
Tonight's Story is Suki's Kimono words by Chieri Uegaki and illustrations by Stéphane Jorisch

Soul Matters shares:  Here is a story about how a little girl celebrates her new kimono, even though she will stand out as different in school.  Her delight in her kimono overcomes the uncomfortableness of being different.  This is a great story about the diversity of delight and how we add delight to our lives.  
SUNDAY
9:45 AM : Adult RE 
In Person: chalice house craft room.  (Teens welcome with accompanying parent/guardian)

Faith Formation – 1st Sunday in June: discussion continued based on Gutsy Women, personal recollections of Pat Uribe-Lichte.  email Ginny Chudgar for more info (see directory for address)
9:45 AM: Children's RE  
Elementary Ages:  Onsite/Online, email Erin Connolly by Saturday noon if you'll be attending online
On site: Kidspace Classroom 2nd floor * teens may help, let us know you'll be coming

Children's RE – We delight in learning a new song! 
10:30- Worship Service- All Ages
How can we help each other feel better? 
10:45 – 11:45 Youth Group:  
Grades 7th – 12: we had a great year!  next meet up in August.
Monday – Thursday 
Weekly posts on our covenanted RE Facebook page
https://www.facebook.com/groups/UUBerks.RE.page/?ref=share
check out our Remind classroom.
If you need to signup link here: remind.com/join/refuucbc
---
The Kids Need You in Religious Education (RE)
We are putting together RE programming for the fall and want to make sure we have everyone interested in being a helper or leader. EVERY bit helps–even if you can only help one Sunday morning during the whole year, we welcome that!
Seven is the lucky number. If we have seven volunteers for each class, then we can rotate and spread the joy of serving our children. Even if you've already spoken to Ebee or someone on the RE Vision Team, make sure you sign up here so we can follow up.
Here are three cute videos that explain why we need you: https://www.youtube.com/playlist?list=PL7ki3apq8L56PPS9WyKs8qro-iM_x6rmi
Sign Up here: UU Religious Education (RE) Volunteers
Sunday Volunteers:
Greeters: Joanne K.& Dennis W.
Ushers: Carol O.& Randy N.
Coffee Crew:  Ann and Scott G.
End of Summer Picnic
Mark your calendars now for the End of Summer Picnic on Sunday, August 27th at 12pm at Farming Ridge Park in Exeter. The picnic will begin after the worship service and there will be a basket raffle during the picnic. We will be sharing more information in the Univoice later this summer. We will need help organizing and running the picnic. I am hoping that Rev. Amy will lead us in an old-time worship service before the picnic that lasts 3-4 hours like our church used to have 100 years ago. As one of the co-chairs of the Picnic Committee, I decree that all the picnic volunteers will be officially excused so as to be able to help with the picnic.
Contact Frank W. if you are able to help or have questions/suggestions.
Greeter Volunteers Needed
I hope this mid spring beautiful weather is finding you all well!!
As we are all seeing new growth in nature in this season- I find that being of service is also a path to growth for us humans 🙂   We currently have a dedicated list of volunteers which is very much appreciated but as summer gets closer- I realize there are other adventures we will be heading out to do so there are currently a lot of open spots for the upcoming Sundays.  This is a wonderful way to connect with the rest of the community, get to know more about our amazing church and as an added bonus- gets you to church when sometimes you may not feel like getting out of your pajamas and hear the priceless messages in each of the services.
With this said- we need your help!!   If you are available or want to know more about being a greeter -please reach out to me by phone, text or email
Blessings,
Joanne K.
Handprint T-shirt Order
Have you seen our amazing congregation handprint canvas in the Gerber room? Now you can get it on a T-shirt for $20! You can pre-order a shirt for yourself now through May 21st on the order form in the Gerber room- find the shirt and you'll find the form. Ask an RE volunteer for assistance.
Do you have our latest Church Directory?


If you are in need of a church directory, please email Melissa at office@uuberks.org for a PDF copy or a hard copy to be mailed to you.
Would you like to deepen your connection to members of our church community?
The Eighth Principle Committee invites you to read What Does It Mean to Be White? Developing White Racial Literacy by Robin DiAngelo and then share your reactions to this important work in conversations with others, starting in July.  This is an opportunity to build community by telling stories and grappling with societal oppression. We have a limited number of copies available for $12.  Please contact Be Y. to get your book. We look forward to lively discussions this summer.
Food Bank
The Helping Harvest Food Bank held at our church on the 3rd Saturday of each month. To prepare, we need to set up a "store" in the Gerber Room with tables and shelves around 8:30 AM. We will receive a delivery truck from Helping Harvest around 9:30 AM, which contains hundreds of pounds of food that must be carried in from the street. We will unbox all of the items and place them on the tables and shelves. Once the "store" is ready, we will guide families through it, one or two at a time, and assist them in selecting items that they can take home for free. Afterwards, we will break down all of the boxes and put away the tables and shelves.
We require many volunteers to ensure that everything runs smoothly. Currently, we are in need of more help. Would you be able to spare a few hours on Saturday morning to assist us? Typically, things are slow until the delivery truck arrives, so we could use more help with unloading, managing the different food areas in the "store" and cleaning up afterwards. Last month we were done before 12 noon. If you have any questions, please contact Frank W.
Attention Giant Shoppers! Did you know you can shop at Giant and make money for the Church at no cost to you?
FUUBC is part of the Giant charitable grocery scrip program that gives 10% of all gift cards sold back to our church. You can purchase cards as needed or sign up for a monthly gift card order that will be sent directly to your home the first week of each month.
When you receive your order you will also receive a return envelope to mail your check to the church. Checks can also be dropped in the Gerber room drop box or in the plate collection. Checks should be made out to FUUBC with giant card in the memo line.
If you would like to purchase Giant cards please return the form below to Melissa at office@uuberks.org. One time cards can also be purchased from Melissa at coffee hour twice a month.
Giant cards are available in $50 and $100 increments.
Parking Update
Reading is changing its street parking procedure from meters to app only payments. Currently parking in front of the church is free during the week until further notice. Street parking is always free on Sundays and free parking is also available in the Library lot on Sundays. The parking garage does charge on Sundays. You can pay by the Parkmobile app or at the small payment station near the entrance of the parking garage (near the stairs)
Of course June would contain delight. Not only is it the month when we gather
together for General Assembly, but the weather in most areas is getting luscious.
There are the June celebrations of Juneteenth and Father's Day and PRIDE, plus,
for some, graduations and the June wedding.
Delight is, in my understanding, a very specific happiness. It is when you find
happiness because of turning toward something. It is a verb and a noun; while
your favorite ice cream may be a delight to share with someone, you delight in
doing so. It is happiness, with the full feeling of satisfaction.
When I think of spiritually encountering delight, it is to rejoice in the feeling we
get when everything is, for that moment, just right. It is when we experience life
the way God wishes for us, if God language works for you—happy and satisfied.
A perfect sky, the smile of someone we love, the bracing wake-up of jumping into
a cold lake or pool after Memorial Day. Delightful.
Strip away the external trappings of the right clothes or the cost, and look at the
thing you are planning or looking forward to doing in June. What delights does the
moment promise? Use all of the seldom-used words to encourage a delightful
time. BASK in the satisfaction of a task completed. REVEL in the joy you
brought to somebody else. REJOICE in a well-executed plan. Delight is like
happiness, next level. It is not out of our grasp; we just do not often take the time
to notice.
In June, take the time to delight in the small things, and make the big things
delightful—happy and satisfactory. Even if it ends up looking different from what
you first imagined. You might even reach the next level of EXALTED. But for
now, let's delight in this June weather.
In peace with love,
Rev. Amy
Hymn Highlight: #1022 Open The Window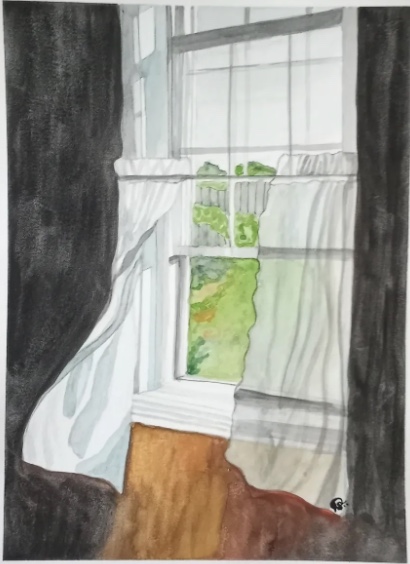 Delight, our theme for the month, and delicious share etymological root.  This feels right, delight can feed the soul in a joyful way.  We have to open up and let delight in for it to do so.
This framework makes me think of Elise Witt's song in our teal hymnal #1022 "Open The Window."  Her song is inspired from the Georgia Sea Islands spiritual Heist the Window, Noah. 
Her song uses just one line from the original "let the dove fly in."   In our hymn, we sing of situations for the dove to fly in, for peace to fly in.  I think that can also be the unexpected, the joyful, the delightful to fly in.
I encourage you this month to take a moment and sing our hymn with Elise Witt and Lea Morris.
Elise Witt's Open the Window with Lea Morris for the Washington Ethical Society
And then ask, what window can you open?
What might fly in?
by nadine j. smet-weiss
spiritual director
awakening
to daylight
bare toes
in beach sand
dog kisses
giggling children
wandering
pine needle paths
passing smiles with
passing strangers
sour raisins
pounding
ocean waves
silence of
still waters
a good cup of coffee