Weekly News for the week of:
May 17, 2020
Since worshiping online, our community has had the delight of seeing each other's animal companions on screen. So how better to acknowledge the importance of and special relationships with them than with a blessing. Our service will include a visual presentation of our pets and a blessing. The Spring Congregational Meeting will follow the worship service.
With a computer, smartphone or tablet, click on this link to participate: https://zoom.us/j/562036166. (If it's the first time you're using zoom you may be prompted to download a launcher app.)
With a land-line, cell phone, or smartphone (audio only)

dial this number to participate: 1-646-558-8656.
When prompted, enter the Meeting ID: 562 036 166.
Please plan to log on by 10:20 or 10:25 am so that you can establish a connection before worship is scheduled to begin. Please note that your mic will be muted and will remain muted for the service. Our service concludes with "virtual coffee hour" when members and friends are unmuted.
***This week during coffee hour, we will break into small groups for 15-20 minutes of focused conversation***
Missed Last Week's Service?


If you missed last week's service you can view the recordings on our Past Services page on our web site at http;//uuberks.org.  Click on the "Worship" link on the main menu and select the "Past Service" option.
Are you having trouble connecting to Zoom services?
We have established a Zoom service tech line if you are having trouble logging into our Sunday service. If you do not get an immediate answer, leave a message and your call will be returned momentarily. Dial 484-925-1684.
This Week in RE:
Tonight – Friday
Story & Song Time with Ms Maria link
Before you share the story – here's a description of the video from Maria
SUNDAY
All ages worship
For All: This week we come together to bless our pets.
Coloring Sheet: "Animal Blessing", coloring page by a fellow DRE – what colors do you gravitate to when coloring this week's sheet as you listen to the worship service? 
Activity: Pet your animal or stuffed animal.  Today we are focusing on our connections to the animals in our lives.  One way we strengthen that connection is through consenting touch.  With each pet notice your and your pets' breath.
Seeds, Sprouts and Saplings: *** NEW TIME THIS WEEK From 9:45 to 10:15 zoom time with Ms Jayné and Erin. 
We will get to check in and play.  Next week is our next children's theater morning.  Contact director.religious.education@uuberks.org if you need the info resent.
Youth Group: No Youth Group Sunday
Your assignment: think of something kind and generous you can do for a fellow youth group member.
WEDNESDAY
Check out this fun video to learn
how you can participate in the
newest trend sweeping the world
of UUs – #chaliceChallege 
Ritual is important for faith formation – Wednesday evening let's light a chalice.  Here's our chalice lighting that might work well for you:
"To this quiet place of beauty, we come from busy things Pausing for a moment for the thoughts that quiet brings." 
or 
"We light this chalice for the warmth of love, the light of truth and the energy of action." – Mary Ann Moore
speak the words, take one large breath in and out and then extinguish the flame.
What moments of ritual do you have in your home already? We'd love to hear email your experience to director.religious.education@uuberks.org
FRIDAY EVENING (5/15)
Story time with Ms Erin.  A time for your little one to hear a story from our RE Assistant, Erin, via pre-recorded video. 

This Sunday May 17, 2020 at 11:45 am via ZOOMTopic: Zoom Congregational Meeting
Time: May 17, 2020 11:45 AM Eastern Time (US and Canada)
Meeting ID: 940 8437 3513

To join from your desktop/laptop/tablet/smartphone, click on this link:
https://zoom.us/j/94084373513

To join from a smartphone with audio only, click on this link:
+13126266799,,94084373513#,,1# US (Chicago)

To connect by phone:
1) Dial the phone number: 1-312-626-6799
2) When prompted for the "Meeting ID", enter: 940-843-735-13#
3) When prompted for the "Participant ID", enter: 1#
Shut Down Berks Virtual Vigil

Sunday, May 17, 3:30-4:30pm

Hosted by Shut Down Berks Interfaith Witness, the Shut Down Berks Coalition & Make the Road PA
Led by Rev. Dr. Dennis Ritter(Retired, Lutheran Congregational Services)

Vigil to be held via Zoom—for an invitation,send message to s.strauss@pachurches.org

FOR MORE INFORMATION CONTACT s.strauss@pachurches.org Visit the Shut Down Berks Interfaith Witness Facebook page-Facebook.com/shutdownberks/
Worship Tech-Slideshow Coordinators Needed
The worship team is looking for a few more volunteers who can run the Sunday morning slides during worship. Volunteers are on duty once every 4 to 6 weeks. You will get training and rehearse with the worship team the week prior to the service you are supporting. Rehearsals are held Fridays from 5-6 pmYou will need familiarity and ease using Zoom and slides (we use Google Slides which are similar to PowerPoint) as well as a strong internet connection. If you are interested or have questions, please send a email to g.worship.tech@uuberks.org.

Family Promise will be having a virtual fundraiser – "Promisewalk"
Please register & start a team. It's $25/household. There are prizes and it's fun for all ages & pets too. People do not have to be from here to support this cause, they can do this from anywhere around the world. Please forward this and encourage all of your contacts to participate. The event is on all of our social media platforms which makes it easy to share and I've attached pictures as well.
Sponsorship opportunities are available, see details below, on link or in attachments.
Let's make the best of a difficult time in history and be better prepared to serve the increased need in the months to come.
Thanks for helping us spread the word and register here

Special Plate Collection
The Social Justice Coordinating Team has decided to limit the Special Plate collections to just one at this time.  All of us are focused now on the financial needs of our families, households, and immediate communities, and yet we want to fulfill our mission and help where help is most needed.  Therefore, we will be holding a Special Plate Collection on Sunday May 24 to support the Olivet Boys and Girls Clubs in their work of helping to feed the youth of Reading.  Olivet was one of our chosen recipients this year, and their food outreach is basic and much-needed in the city.
May 20 Virtual Book Launch for UUA "Conversations with the Sacred"
There will be a Virtual Book Launch on Wednesday, May 20 from 8-9:15 PM for Conversations with the Sacred: A Collection of Prayers, edited by Manish Mishra-Marzetti and Jennifer Kelleher. The event is co-sponsored by UUA's Skinner House Books at this link: www.uuaa.org/conversations. (The double 'a' in 'uuaa' is intentional; the link will not be active until 5/20.) The book can be ordered here.
Please Update Your Zoom Accounts-ASAP
As of June 1st Zoom will be using an updated platform Zoom 5.0. Please take a moment to update your zoom accounts. You can do so by logging in to your accounts and selecting the update link where you see"Important Notice Please begin updating all your clients to Zoom 5.0".
Click on the link provided and you will be guided through the update.
You can also find the update by clicking on "check for updates" in the settings menu in the upper right hand corner of your screen. If you are having problems accessing the download please contact our tech support team at g.worship.tech@uuberks.org
A detailed update guide can be located at this link as well: https://zoom.us/docs/en-us/zoom-v5-0.html
Are You Stressed, Lonely, Bored? Would You Like a Conversation Partner?

The pandemic is affecting us all in a variety of ways and, for some, the effects include feelings of isolation, boredom, and stress. Having a good conversation partner can help ease those stressors. Our church, through the Caring Circle, is coordinating regular conversation partners to build connection and offer companionship. Conversation partners will touch base regularly (by phone, email or regular mail) and provide a space to exchange stories, gratitudes, and sorrows.
If you are interested or want to learn more, please contact Rev. Sandra at minister@uuberks.org or the Caring Circle at g.caring.circle@uuberks.org.
Pandemic-Oriented Volunteer Opportunities
Attend the 8th Principle Listening Café on Sunday May 3 to learn about the 8th Principle in preparation for voting to adopt it during the Congregational Meeting on May 17th.  The Listening Café will be held virtually at 12pm. (see above post for details)
Berks Encore – needs volunteers to grocery shop for folks (age 50+) who can't do their own shopping.  Nadine Smet-Weiss (484-333-4015; njw1258@hotmail.com) will be happy to share her experience of doing this for two clients;
Berks Encore – also operates the Meals on Wheels program.  Contact them to see if they need drivers;
Donate meal(s) or grocery money for two families living in the Family Promise Day Center.  Contact Carla Mannix (610-301-4522)
Join g.immigration.justice@uuberks.org for updates and actions re: Shut Down Berks.  Contact Tonya Wenger (tlwenger73@gmail.com)
Join a Virtual Sewing Circle to make masks and PPE gowns; or donate money for fabric.  If interested, contact Ginny Chudgar (610-678-8599; 610-223-8240 [text]; ginny.chudgar@gmail.com).
Some Much Needed Good News
The Social Justice Coordinating Team is pleased to announce that FUUBC has received a grant of $900 from the Berks County Community Foundation to support our social justice work.
Beware of Church Scamming Emails
Unfortunately, the scammers are as busy as ever during this pandemic. There is an ongoing scam that churches are being subjected to in which individuals impersonate the pastor's email and make financial requests. Some of you have received such an email.Please know that I would never ask you "to handle something for me," such as purchasing gift cards with your personal money that I would reimburse you for or asking you to send your money directly to other people for me. Our financial efforts, including giving to organizations and individuals, are directed through the church in an official way.
Another important reminder: my only church email address is minister@uuberks.org. Be sure to delete any others from your contact list to avoid any confusion. And should an email from me ever seem unusual or suspicious in any way, please be in touch with me at minister@uuberks.org.
With love,
Rev. Sandra Fees
Giving Options in a time of coronavirus
We know that these are uncertain times and that some of our members and friends are being impacted financially as well as in so many other ways. For those who are able to make a gift or continue to contribute to their pledge, we have added some options. In addition to accepting checks and signing up for electronic giving, you can also now make your gifts from the website and via text. Here are the details:
You can now give online on our website UUberks.org by clicking on the online giving tab or clicking
here
You can also give by downloading the GivePlus app on google play and the App store below. You can easily locate our church by zip code 19602
Covid-19 UU Berks Community Response Fund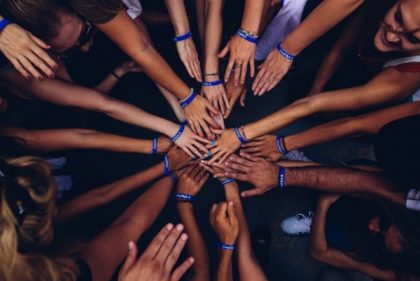 In response to Covid-19, UU Berks is establishing a "Covid-19 community response fund" as a sub-category of the existing Minister's Discretionary Fund (MDF). Donations to the "Covid-19 community response fund" will be used to fill critical gaps in the lives of individuals and families in Reading and Berks County that are the result of Covid-19.
Assistance may include one-time payments of phone, gas, electric, rent, or mortgage expenses resulting from lost wages or other Covid-19 related impacts. Recipients will be church members and friends or individuals and families referred by church members. Contributions may be made by check to First UU Church of Berks County (FUUBC). Write "Covid-19 MDF" on the memo line.
You may also make a contribution to the Minister's Discretionary Fund for the ongoing hardships affecting church members and friends by sending a check to FUUBC and writing "MDF" on the memo line. Contact Melissa Medina, office administrator, at office@uuberks.org or Rev. Dr. Sandra Fees at minister@uuberks.org if you have questions.
An Update From the UUA on General Assembly
General Assembly, the annual conference that gathers thousands of Unitarian Universalists, is a tradition beloved by many. It is a time of celebratory reunion, participatory governance, and leadership development.
The UUA Office of General Assembly and Conference Services (GACS), along with a group of dedicated volunteers who form the General Assembly Planning Committee, scout cities, make commitments, and execute contracts years in advance to plan each conference.In February, GA 2020 planning was off to a remarkable start. Almost 2,000 people registered early and the number of program proposals and guest speakers broke recent records. Then COVID-19 became a national pandemic and a state of emergency was declared. Everyone—including Unitarian Universalists and those of us planning GA—had to quickly assess how to stay socially and spiritually connected despite being physically distant. I am proud of our creativity and flexibility during this time of hard choices and difficult transitions.

As Director of GACS for the UUA, the safety and well-being of all GA participants was my paramount concern as I monitored federal and state regulations, meeting and convention industry predictions, and the status of other faith-based assemblies. The decision of what to do about GA was complex, with a variety of scenarios to consider and much collaboration between the Planning Committee, UUA staff, and UU identity and affiliate groups. A thorough analysis of our contracts was also necessary to determine our legal and financial obligations, and what penalties we would incur should we breach the contracts.

Everyone involved in GA in some way, from presenters to exhibitors to speakers and staff, were feeling the anxiety that comes with uncertainty. Thankfully, the investment of time and effort on the front end paved the way for us to come to a mutually agreeable resolution with our partners in Providence. Then, the UUA Board passed a resolution authorizing a 100% virtual GA for 2020. The Board's decision alleviated much of the anxiety and gave the UUA's Internet Technology Services team and program presenters time to plan a more robust and rewarding virtual experience.
With so many UUs already online, this year's GA could well be our highest-attended Unitarian Universalist gathering in history.
A 100% virtual GA comes at a time when many UU congregations have embraced virtual meetings and virtual Sunday services. Although this pandemic has been challenging for many, a silver lining is that UUs are adapting to and seeing the value of incorporating technology into their religious lives. With so many UUs already online, this year's GA could well be our highest-attended Unitarian Universalist gathering in history! It will be accessible to a more diverse and global audience. It will also help reduce our carbon footprint, which aligns with our commitment to care for the earth and environment.

Join us as we experiment in previously unimaginable ways! If you are already registered for GA, your registration has been converted to virtual and you will receive a survey regarding the options for applying your refund. If you have not registered for GA, please click here to do so now.

May we be ROOTED in our revolutionary and living faith tradition, INSPIRED by this opportunity to live our mission in innovative ways, and READY to celebrate in June…virtually!

Yours in love,

Susan
The 8th Principle of UU
In May, our congregation will be voting on whether to adopt the 8th Principle to ground and guide our work toward building the Beloved Community. You can learn more here
Are You in Need of Resources?
Are you experiencing financial or grocery needs? The church community can provide a box of dry-goods groceries on a Thursday for pick up at the church or grocery cards to shop at Giant or Weis. For assistance with these or other needs, please contact by email Rev.Dr. Sandra Fees or the church office. You may call the church office at 610-372-0928 or email office@uuberks.org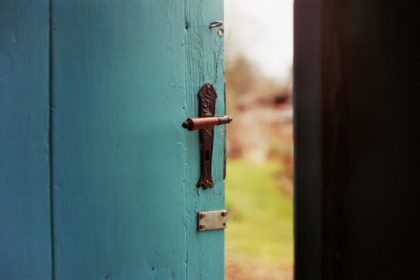 A [threshold is] a space to imagine a new way, and new self. Not moving or pushing but sitting and cultivating… [the goal] is to allow you space and time to reflect on your past, present, and future. To imagine a new beginning . . . .

Rev. Sara LaWall
Dear Members and Friends,
Threshold moments are a part of daily life, present in every day and hour, but they are made more pronounced when calamity or disaster strikes. Right now, we seem poised at a threshold. But of what? And how shall we move toward this threshold? How shall we cross it?
Threshold moments invite us into discernment where we ask such questions, where we reflect on what it means to move forward in the right way. Threshold moments ask us to imagine a new way and a new self. The threshold moments we are encountering collectively and individually as a result of the global pandemic are urging us to move and push. There is an urgency to aid those who are ill, to feed those who are hungry, to find a vaccine, to do our part in easing the suffering in the world. Our Social Justice Team has identified a number of pandemic-oriented volunteer opportunities our community can collectively engage to ease suffering, which are included in this month's news. You can learn about them here.
Even as we are called to take action, threshold moments also require space – space to sit and cultivate. As Rev. Sara LaWall says, they "allow you space and time to reflect on your past, present, and future. To imagine a new beginning."
Each of us needs to act and also to allow ourselves some space, to give ourselves some time. My wish for each of you is that you will allow yourselves space and time in which to reflect on how you are moving toward this threshold moment, toward these threshold moments, and how you are crossing them in these unscripted days.
Yours in a spirit of spaciousness and compassion,
Rev. Dr. Sandra Fees
---
In the Threshold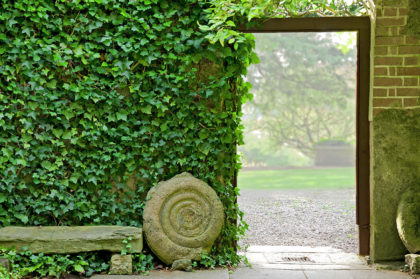 For the past month each Wednesday night at choir we've been ending our gatherings with a chalice lighting and check in.  It's a verbal threshold that we create together. This moment to light a chalice marks our transition from singing and listening and breathing together to being apart for the week.  We use a song to frame our chalice lighting.  It's a different song each week.  I thought I could share one song with you for this month's musings on what it means to live in threshold moments.
Hymn #352, "Find a Stillness" has lyrics by Carl Seaburg and is set to a Transylvanian folk tune.
Find a stillness, hold a stillness, let the stillness carry me.
Find the silence, hold the silence, let the silence carry me.
In the spirit, by the spirit, with the spirit giving power,
I will find true harmony.
Seek the essence, hold the essence, let the essence carry me.
Let me flower, help me flower, watch me flower, carry me.
In the spirit, by the spirit, with the spirit giving power,
I will find true harmony.
Seaburg's lyrics hold an invitation Find a _____, hold the _______, let the ______ carry me.
In this threshold moment
What are you finding?
What are you holding onto?
What are you letting carry you?
In Harmony,
Ebee
---
#ChaliceOfTheDay
From Your Director of Religious Education: Ebee Bromley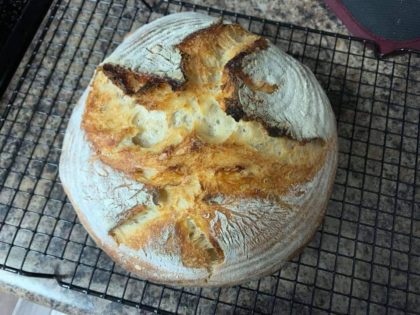 In April I highlighted the #chalicechallenge I hope you had fun making your own chalice or you look forward to making one soon. This month of May we're exploring how we can become "a People of Thresholds." And a threshold is just a place between two things. When we pass through a threshold, a doorway we have to look around and see the new space we're in. So we're going to look around this month. Look around for a #chaliceoftheday
I've been following UU, Andrea Lerner and her #chaliceoftheday project for a few years now.  It's a neat project to connect me to the symbol of our Unitarian Universalist Faith.  It's the cup that holds the light of love, truth, grace, and justice.  The #chaliceoftheday let's us be reminded that we choose to carry that light no matter what thresholds we move between.
So Take some time to notice chalices in everyday items and nature all around you. Here are a few from the project to get you started:
Bread from Lisa Bovee-Kemper
---
all we have
by nadine smet-weiss
Spiritual Director
now
is
all
we
have
blessed
moment
full
presence
breath
birthing
life
through
us
now
---
Upcoming events
RE Kids Hangout
Sun, May 17, 9:45 AM
Congregational Meeting
Sun, May 17, 11:45 AM
Shut down Berks Virtual Vigil
Sun, May 17, 3:30 PM
Choir Rehearsal
Wed, May 20, 7:00 PM
Virtual Book Launch
Wed, May 20, 8:00 PM
RE Kids Hangout
Sun, May 24, 9:45 AM
Youth Group – Virtual
Sun, May 24, 11:45 AM
RE Committee Meeting
Sun, May 24, 12:00 PM