Weekly News for the week of:
January 23, 2022
What are your deepest intentions? How do you stay true to them? This morning we'll explore some simple everyday practices to help answer those questions.
Tonight – FRIDAY
7:00 PM:
For this week's exploration we hear, The Ruby is the best wisdom tale you've maybe never heard; it is a powerful story that resonates strongly in our age of inexcusable income inequality, as well as toxic consumerism, but in a way that refocuses us on the larger issue of personal, interpersonal, and ecological peacefulness. The story appears on the Internet here, but it's also printed in the book More Ready-to-Tell Tales from Around the World, retold by storyteller Jim May, who refers to it as "a parable from the Hindu tradition." 
SUNDAY
Anytime –  RE Hangout 
Seeds, Sprouts and Saplings (elementary ages): in RE Hangout Zoom Room with Ms Ebee & Ms Erin
RE Hangout – Live with Intention: Go And Play This week we offer you two practices to play with as families from our resource Soulful Home.  These can be done in your own space and time on Sunday.
Visit here for your instructions https://uuberks.org/play
resource link sent via Remind Sunday morning.  If you need access please email Erin (epcjjc@gmail.com)
*** this is in lou of an outside class this week
10:30
For All: Join us in exploring practices and play that we can use to live with intention.
Coloring Sheet: "Chalice Doodling Page"
Use a printed or hand labyrinth to find renewal as you attend worship this morning. Here's a labyrinth you can print out and trace.  Labyrinth Printable
10:30 – 11:45
Youth Group (7th grade & up):

 third workshop weekend 2.20.22
Monday – Thursday 
Daily posts on our new covenanted RE Facebook page 
https://www.facebook.com/groups/UUBerks.RE.page/?ref=share
check out our Remind classroom. 
If you need to signup link here: remind.com/join/refuucbc
Important News from Rev. Dr. Sandra Fees (Jan. 2022)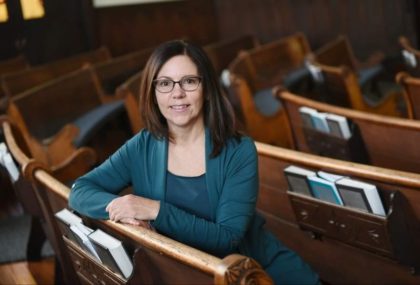 Dear Members and Friends, It is with deep emotion that I write to share with you my decision to retire from UU Berks and full-time ministry in July 2022. I have been in spiritual discernment for a while about the best timing for the congregation and for me. I share this news now so that we will have plenty of time in the coming months to reflect on and celebrate our shared ministry.  

 

I am profoundly grateful for these 18 years together and the trust you have placed in me. I came to you as a newly ordained minister, and this was my first—and only—settled ministry. When I arrived, I shared my hope that we would have a long, healthy ministry together. And here we are, all these years later, having built a vibrant church community and fostered a faithful and loving relationship.

I am proud and humbled by all that we have achieved together. The church has been a vital, welcoming place of worship, learning and justice-seeking. Together, we have nurtured the spiritual lives of members, friends, children and youth and deepened our connection and love for Unitarian Universalism. We have celebrated births, marriages, and retirements, and also mourned the deaths of our beloveds as well as marking so many other special moments. 

Together, we grew the membership, built financial strength, renovated our beautiful historic space, and expanded our staffing. Justice-seeking became a centerpiece of our congregational life. The church continued to address food insecurity through the Food Pantry and also became a Welcoming Congregation, adopted the 8th Principle, worked to shutter the Berks Detention Center, supported Family Promise, and collected thousands of dollars annually through special collections for community organizations. 

As I retire from UU Berks, it is my fondest wish that this congregation have a healthy and smooth ministerial transition. The church leadership will guide the church community through the process, and I have every confidence in their and your tremendous capability. It will be a time to reflect on and envision the future direction of the congregation. While there may be a sense of uncertainty, I hope, too, there will be a spirit of excitement about the congregation's path forward. 

I love all of you and the community at UU Berks. More than anything, we have developed strong covenantal relationships and connections. I continue to be inspired and encouraged by the care you offer to each other, to the larger community and to me. I continue to be amazed by who you are. 
 
With love,
Rev. Sandra
Did You Know?
Did you know that registration is no longer required to attend in person service? All you need to do it submit your vaccination card one time to our office where it will be kept on file for you to attend upcoming service and events.

 

Did you know that recordings of past services are available on our website? Visit UUberks.org and click on the Worship tab and past services for access to recording of previous services or by clicking here 
Food Bank Informational Talk– This Sunday
Please join us after service this Sunday, Jan 23rd, for an informational talk and Q&A about our monthly food bank with coordinator Brian Kammerer. This is a time to hear about the important work being done by the food bank and explore volunteer possibilities! Zoom attendees can remain on the  Sunday service zoom as the meeting will start immediately after service.
https://uuberks.org/zoom-worship
The food bank that FUUBC organizes on the first Thursday morning of every month at the parking lot located on 5th and Cherry streets, needs more volunteers, including for the coordinator role. This is a great opportunity to help in our community and engage with people from diverse backgrounds ! 
Coordinator role – Brian Kammerer needs to step down from this job, but there will be opportunities to shadow him and get extensive training if you are interested in helping in this way. The responsibilities require approximately 4-6 volunteer hours per month, with most of that time needed for the food distribution day.
Tasks* include: 
transporting tables, chairs, and other items to the site at 8am
managing volunteers that morning, and clean-up. 
ordering food online and filling out paperwork for Healthy Harvest (who provides the food and oversees operations)
making other purchases for materials as needed (with provided funds)
other communication with church staff/leaders. Spanish skills are a plus. 
*Note: It might be possible for other volunteers to help with one or more of these tasks, so please let us know what you are capable of doing for this role
Other volunteers are needed asap on the day of food distribution for food setup, distribution of food, registration and communication with recipients (Spanish fluency would be helpful), and clean-up. Training will be provided.
Contact  Brian Kammerer BKammerer@cocaberks.org or the Ministry and Operations Team (g.ministry.and.operations@uuberks.org) with questions or to volunteer.
Splinters from the January Board of Directors Meeting
Lynn O'Brien introduced the Transition Office and Keith Kron, Transition Director for the UUA 
Nominating committee update given
Reviewed Group Gathering and Covid Policy
Social Media Project Update and Brainstorming
Decided on the Service Auction donation 2022 
Feeding Families in Family Promise Program – Jan. 17-26, 2022
Family Promise (FP) has a new 'apartment shelter' model for helping families who are experiencing homelessness. Instead of traveling from church to church, families now live temporarily in a house while participating in the program.
SIGN UP HERE TO VOLUNTEER
Our church has committed to provide meals or groceries to the three families staying at two sites:
Site 1: 2253 Raymond Avenue, Reading, PA 19605 
Morales Family and Williams Family (total: 3 adults, 2 children ages 4 and 5)
Site 2: 1209 Meade Street, Reading, PA 19611
Sanchez Family (2 adults, 2 teens ages 13 & 16)
Volunteers should drop off the meal or groceries on Mondays & Wednesdays directly at the site at 6:00pm. Volunteers are expected to hand sanitize, wear a mask and maintain 6 feet of distance as often as possible.
You can also donate/mail gift cards for food and clothing and items for the shelter homes directly to the FP Office (325 N. Fifth Street, Mon-Thur before 4:30PM. Phone:(610) 373-3323). 
If you have any questions, please call Carla at 610-301-4522.  
SIGN UP HERE TO VOLUNTEER
2022 JAN Family Promise Meal/Grocery Drop-Off
Save the Date for our Annual Service Auction
Mark your calendars: Our FUUBC 2022 Service Auction is on Saturday, February 19th @ 6 PM.

 

Following social distancing recommendations during COVID-19, our auction will be conducted fully online. We will be using the same online auction website to host the silent auction for two weeks (Feb. 13 – Feb. 26) and Zoom to conduct the live auction on Saturday night in the middle of the two weeks.
 
Here is the link to the auction website: https://uuberks.org/service-auction
 
We are currently taking donations for the auction: service auctions only work if there are items to bid on and people participate. If you click on the link above, you will be taken to our auction website. Once the home page loads, you will see a menu across the top of the page (look for the line with "Home", "Donation Ideas", "Donate an Item",…).  To make a donation, click on the "Donate an Item" link on the menu and a new page will open. The top of the page has a list of people that have made a donation. If you scroll down the page a bit, you will see the donation form.  
 
On the first page of the form, you can enter the title for your donation (example: "1 hour of weeding"), a short description and some other details about the donation. Notice the red asterisks next to the title entry field: the asterisks signifies that the field cannot be empty. On the first page, the "Title" is the only required field.
 
When you click on the "Continue to item images" button at the bottom of the form, you will be taken to a page where you can upload a picture of your donation. Click on the "select files to upload" link in the middle of the page to add a photo from your computer. We will use the photo in the catalog to help advertise your item.  Photos are optional: you do not have to perform this step.
 
When you are ready to move onto the next page, click on the "Continue to donor details" button on the bottom of the page and the donor detail page will open. There are only 2 required fields on this page: your name and your email address. You may want to also include your home address information just in case you purchase something at the auction that will be delivered.
 
Click on the "submit donation" button at the bottom of the page to submit your complete donation. A short time later a member of the Service Auction Committee will review your donation and send you a confirmation email. If you would like to donate an additional item, click on the "Donate another item" button on the bottom of this page: you will be taken back to the first page of the donation form.
 
You can also submit donations by making a phone call to 484-925-1684 or by sending an email with your donation details to us at service.auction@uuberks.org.

 Finally, if you would like to volunteer to help with the auction or have a question/suggestion, send us an email at g.service.auction@uuberks.org. Many thanks from the Service Auction Committee.
Our Giving App has Changed
Vanco, the eGiving provider behind our church's GivePlus Mobile app is now using a new online giving app, Vanco Mobile. This easy-to-use app replaces the GivePlus Mobile app you currently use to make your donations.   The switch is simple!  
Your log-in credentials are the same in Vanco Mobile as in GivePlus Mobile 
Recurring created through GivePlus mobile will continue as scheduled  
New gifts, or changes to previously scheduled recurring gifts, can now occur through Vanco Mobile 
Download the free Vanco Mobile app today in the Google Play store or the Apple App store. Find our organization by searching for First Unitarian Universalist Church or by its invite code, 2S4C9G.   
UU  Berks Websites 
Our church has 2 websites: one is public and one is private. Anyone on the Internet can access our public website at uuberks.org, but you have to be a member of our congregation to access the private UUBerks Member Info site at member-info.uuberks.org. Access is restricted, so you need to login with your email address & password.
Our public website has a lot of information that is also useful for members. Did you know that we record a video of every worship service and post them on our website? 
To find the recordings, navigate to uuberks.org. At the top of the page, there is a green box on the right side of the screen, with the title "Next Service". (A) If you click on the next line of text (the title of the next service), you will be taken to a page with all the information about that service, like the Zoom meeting details. 
At the bottom of the green box, there is a "Service Archive" button. (B) Click on it to navigate to a page listing all of our previous services.  Click on a service title to see more details about the service and to view the video recording.

Are you having trouble connecting to Zoom services?
We have established a Zoom service tech line if you are having trouble logging into our Sunday service. If you do not get an immediate answer, leave a message and your call will be returned momentarily.Dial 484-925-1684.
The Art of Setting Intentions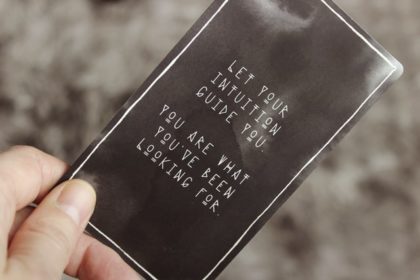 Here's what I discovered. Intention is different from setting goals or resolutions in that it "pulls us into" who we truly are. Goals and resolutions "push us out" into future possibilities. To set intentions, we must listen to our inner voice which tells us who we truly are.                                                                   

Katie Covey, Soul Matters Director of RE Resources
January is that time of year when we begin again, often setting new goals – to get in shape, eat healthier, read more, be more patient. These are worthy resolutions. But setting resolutions sometimes feels like another task list – and one that gets filled with items that I'm already worried I'm going to fail to do.
Like Katie Covey, I've discovered that setting intentions, actually learning to live with intention, is different from setting resolutions. It means discovering what I really want, what my spirit is longing for. It means connecting to my deeper self, to my most authentic self. What if we were all to take some time to reflect quietly on what is calling or whispering to us? What wisdom does the still small voice in us have to offer?
Every January I create a vision board as a way to get in touch with that inner voice. I sometimes do this with friends and other times on my own. Spending a few quiet hours reflecting, gathering images, and putting them on paper helps me get to that inner voice that tells me who I truly am.
So this January, I hope you'll set aside some time to dream on what your heart is most hungering for.
With love,
Rev. Dr. Sandra Fee
nadine j. smet-weiss
spiritual director
my heart hungers
for the sense of fullness
found in being 
truly alive
tempted as i am
some days
to bury that hunger
with the busyness of doing
my heart will not
be satisfied
until i honor breath
requesting its blessing
upon all my doings