Weekly News for the week of:
February 27, 2022
This morning we reflect on the spiritual community we are becoming. What needs healing? What is emerging? How can we honor the fullness of our congregation?
Conversation about the Ministry Transition– This Sunday
The Board of Directors and the Ministry & Operations Team invites the congregation to a conversation about the Ministry Transition on Sunday, February 27 after church.  At this meeting we will be discussing next steps and answering questions about the process of hiring an Interim Minister.  We will also discuss how we want to commemorate the ministry of Reverend Fees as she transitions into retirement.
This meeting will continue directly after church on the service zoom link.
Update on Parking Options
Free parking is available on Sundays on the street and in the library parking lot.
The parking garage across the street (4th and Cherry streets) has changed to a pay by app system. The app is called ParkMobile. It can be downloaded in the apple store or on the google play app. At this time we are unable  to offer discounted parking vouchers.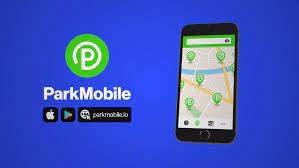 March 8th – International Women's Day
March 8th – International Women's Day1pm action at the Berks Detention Center, which is now incarcerating women immigrants! (more information below)
1040 Berks Rd, Leesport, PA 19533
in coordination with Detention Watch Network's Day of Action (March 3)
Contact Tonya at g.immigrationjustice@uuberks.org ;from the FUUBC immigration team for more information and/or follow Shut Down Berks Coalition (on Facebook, Instagram, or Twitter) or the Shut Down Berks Interfaith Witness on Facebook for updates.
Take action in the meantime (or if you cannot make it on March 8th):
Note: The FUUBC immigration Team recently voted to sign the "Shut Down Berks Campaign Sign On Form: End the ICE Contract Now" – for our team to  support the goals of the Shut Down Berks Coalition in this new phase of their work.
Background:
Earlier this month the Shut Down Berks Coalition received confirmation that ICE had resumed immigrant imprisonment at the Berks sometime in January 2022. We call on the Biden administration to immediately release these women and permanently close the Berks immigrant prison. 
ICE has used the Berks family prison for over 20 years to incarcerate immigrant families, including children as young as 14 days old. After years of community resistance, the Biden administration released all people incarcerated at Berks on February 26, 2021. In September 2021, despite strong opposition from community members, ICE and the Berks County Commissioners reached an agreement to reopen and repurpose the Berks County Residential Center to detain women as young as 18 years old. Today, the facility is incarcerating as many as 65 immigrant women and girls.
Detaining women at this facility is dangerous and cruel. ICE has an established history of abuse and violence against women in its custody. Berks is the same facility where a staff member was convicted for raping a 19 year old mother in 2014.
President Biden's stated priorities endorse an immigration system that "welcomes immigrants, keeps families together, and allows people across the country—both newly arrived immigrants and people who have lived here for generations—to more fully contribute to our country." However, his actions betray this promise and perpetuate the cruelty employed by the Trump administration as a tool for deportation. Detention is unnecessary, immoral, and results in family separation and isolation.
Did You Know?
Did you know that registration is no longer required to attend in person service? All you need to do it submit your vaccination card one time to our office where it will be kept on file for you to attend upcoming service and events.

 

Did you know that recordings of past services are available on our website? Visit UUberks.org and click on the Worship tab and past services for access to recording of previous services or by clicking here 
From Social Justice Coordination Team
Please add the LGBT Center of Greater Reading's PRIDE FEST to your calendar for July 17th, 2022.  Further information to follow, but suffice to say, it's a wonderful celebration of our LGBTQ Community and its allies.  First UU Berks has been a presence at the Festival for many years

Deeper Than The Skin: Live and Live Streamed
The latest version of a quintessential American story of Race and friendship.This Sunday Reggie Harris and I will present Deeper Than The Skin at Voices Cafe in Westport, CT.
It will be live and live streamed, providing a very rare opportunity for folks everywhere to see this remarkable presentation on Race in America
The information is at: www.voicescafe.org. If you're on this list, then there is a good chance that you've seen it, Reg and I have been friends for over 30 years, we were born 3 days apart, and our DNA came up the same portal in history, the James River. We tell our stories, punctuated by songs, telling the unvarnished truth about what we have experienced.
As America is beginning to have dialogue on Race, Reggie and I have continued to delve deeper, to include the events that are shaping the country now, to look deeper into ourselves to better invite this discussion. We think you'll hear things you didn't hear on the CD. We hope you will join us as we take the next leg of our journey.
This is our new video, hopefully it will remind you of the experience, and help
spread the word to folks that you think might find this compelling.
Our Giving App has Changed
Vanco, the eGiving provider behind our church's GivePlus Mobile app is now using a new online giving app, Vanco Mobile. This easy-to-use app replaces the GivePlus Mobile app you currently use to make your donations.   The switch is simple!  
Your log-in credentials are the same in Vanco Mobile as in GivePlus Mobile 
Recurring created through GivePlus mobile will continue as scheduled  
New gifts, or changes to previously scheduled recurring gifts, can now occur through Vanco Mobile 
Download the free Vanco Mobile app today in the Google Play store or the Apple App store. Find our organization by searching for First Unitarian Universalist Church or by its invite code, 2S4C9G.   
UU  Berks Websites 
Our church has 2 websites: one is public and one is private. Anyone on the Internet can access our public website at uuberks.org, but you have to be a member of our congregation to access the private UUBerks Member Info site at member-info.uuberks.org. Access is restricted, so you need to login with your email address & password.
Our public website has a lot of information that is also useful for members. Did you know that we record a video of every worship service and post them on our website? 
To find the recordings, navigate to uuberks.org. At the top of the page, there is a green box on the right side of the screen, with the title "Next Service". (A) If you click on the next line of text (the title of the next service), you will be taken to a page with all the information about that service, like the Zoom meeting details. 
At the bottom of the green box, there is a "Service Archive" button. (B) Click on it to navigate to a page listing all of our previous services.  Click on a service title to see more details about the service and to view the video recording.

Are you having trouble connecting to Zoom services?
We have established a Zoom service tech line if you are having trouble logging into our Sunday service. If you do not get an immediate answer, leave a message and your call will be returned momentarily.Dial 484-925-1684.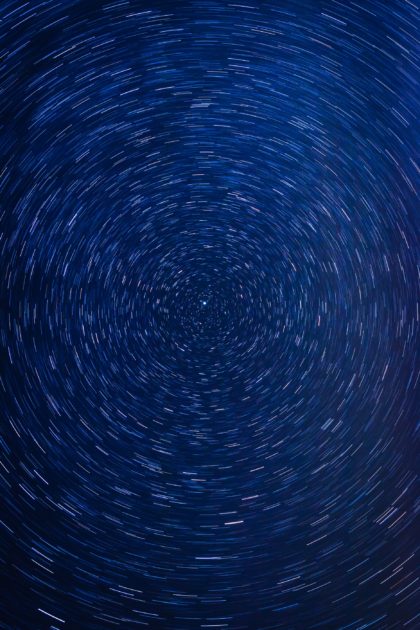 I live my life in widening circles…
I circle around God, around the primordial tower.
I've been circling for thousands of years
and I still don't know: am I a falcon,
a storm, or a great song?
Rainer Maria Rilke, translated by Joanna Macy
This month we are considering what it would mean to live our lives in widening circles. I know that the pandemic has changed my circles of engagement. My in-person circles have narrowed a bit while my online circles have widened rather dramatically. I love the new friends I've made online. And, I also look forward to widening my circle locally in the coming year. I'm eager to reconnect with local groups and activities that have been mostly virtual or inactive. I'm also recognizing my urge to venture out and explore some new possibilities.
What needs a little widening in your life? Your ability to stay open, to be vulnerable? Your circle of friends? Your engagement with anti-racism? Your acceptance of yourself and others? Maybe you need to become reacquainted with your own cultural or religious background. Maybe you need to join a new circle – an activity, committee, project or group. Or maybe you need to leave a circle you've been part of for a long time that is holding you back from a truer flourishing.
I hope you'll take a little time this month to consider how you might expand your circle in ways that will provide you encouragement, support and joy.
Yours in faith and love,
Rev. Sandra
---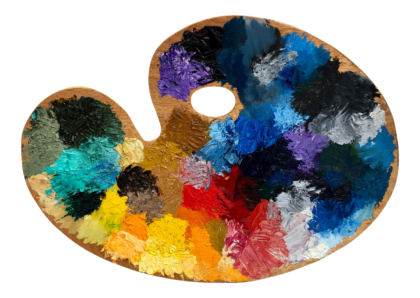 I have always found a need to create.  I remember wanting my creations to be perfect.  For a while I wanted to work on something until it was "done."  A circle was not a circle until it was complete.  But what happens if we try to widen that circle?  What happens when we leave a project incomplete? 
In our month exploring the ways in which our times call us to "widen the circle" I'm going to return to a creative practice that helps me nurture the core of the thing, cultivate curiosity and feel a sense of belonging to things I've known forever and things I'm getting to know for the first time.  
Many years ago now I was introduced to the concept of process painting.  The point of this kind of painting is not to strive to make your most technically beautiful art but to lean into the process of creation and see what emerges.  
Dance then move to start painting.  After a while stop and take a look at your work.  Thank your work for what it is.  Go back to dancing some more.  Create a new painting overtop of the first painting.  Rinse and Repeat.  Maybe what emerges is something completely different. Maybe there is a morsel that stays the same.  Do this again and again and through the layers meaning emerges. 
It can bring forth a lot of different emotions to paint over a work that feels whole.  What I've found though is that the pieces that are important re-emerge.  Sometimes they re-emerge in different spots of the painting.  Sometimes they deepen in the same spot I began them many layers ago.  The new layers, and the differences they bring beckon a deeper clarity to the whole.  
In this month of widening our circles, may we explore, may we embrace, may we move.
Or as our UUBerks mission and vision statements assert may we seek, nurture, and serve.
Yours in Faith and Learning,
Ebee Bromley, DRE
P.S. Our soulful home packet has an art project that you can do at home. See page 13.
---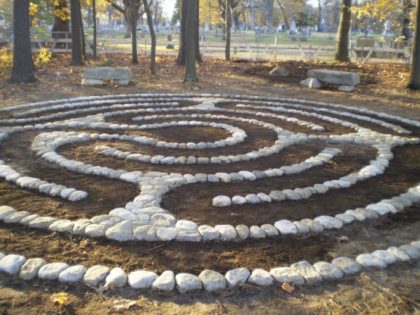 by nadine j. smet-weiss
spiritual director
having come
full circle
it may seem
we have gotten
nowhere
until we share
the story
of our journey
realizing how far 
we have come
and thus filled  
we begin again