Weekly News for the week of:
January 15, 2023
This week we will examine the long and distinguished history of this congregation.  Part of the work of the interim time is to know and claim our history, so let us delve into this task with curiosity.
---
To attend on site, FULL VACCINATION STRONGLY RECOMMENDED: FUUBC strongly encourages all those who can be vaccinated to be vaccinated, including boosters as appropriate.
MASKING RECOMMENDED: FUUBC strongly encourages attendees at worship services and other large gatherings to wear masks.
To attend by Zoom, click on this link: uuberks.org/zoom-worship. (If this is the first time you're using zoom, you may be prompted to download a launcher app).
To connect by phone (audio only):
1) Dial the phone number: 1-646-558-8656
2) When prompted for the "Meeting ID", enter: 921 4271 5512#
3) When prompted for the "Participant ID", enter: #
Please plan to arrive or log on by 10:20-10:25 am to enjoy the gathering music, and, for those on zoom, to establish a connection before worship is scheduled begins. Zoom participant mics are muted throughout the service.
This Weekend:
Tonight's Story is A Cup Of Light: All About The Flaming Chalice words by Pamela Baxter 

As we prepare to talk about our UUBerks history – here's a story about the symbol we light each week in our worship services.  From the Amazon blurb "

The flaming chalice is the symbol of Unitarian Universalism. Where did the symbol originate? Why did Unitarian Universalists adopt it as the emblem of their faith? A Cup of Light looks at the separate symbols of fire and cup, and at their significance when combined as the flaming chalice. Written for young children, the simple, direct language helps bring meaning to this rich symbol."
Watch it here.  Or borrow it from our church library!  
SUNDAY
9:45 AM :Adult RE 
In Person: back chalice house room

Faith Formation – Neurodiversity.  We continue our exploration of neurodiversity.
9:45 AM: Children's RE  
Elementary Ages:  Onsite/Online, email Erin Connolly by Saturday noon if you'll be attending online
On site: Kidspace Classroom 2nd floor * teens may help, let us know you'll be coming
Children's RE – We get to learn and teach how to use a loom to make hats!  This is a fun project that we'll be working on throughout the next few weeks to create hats for folks who need them. We'll also get to serve with the usher team during worship. 
10:30- Worship Service- All Ages
We will explore the long history of this congregation.  What were the choices made before that brought our community here each Sunday?   
 Youth Group 
Grades 7th – 12:  Onsite 
On site: back chalice house.  Gathering by name tags cart before start.

ALL 8 fourth session: this year we dive into all 8 principles through art making and brain storming.  Sunday's session will focus on the 4th principle. 
Monday – Thursday 
Weekly posts on our covenanted RE Facebook page
https://www.facebook.com/groups/UUBerks.RE.page/?ref=share
check out our Remind classroom.
If you need to signup link here: remind.com/join/refuucbc
Attention Giant Shoppers! Did you know you can shop at Giant and make money for the Church at no cost to you?
FUUBC is part of the Giant charitable grocery scrip program that gives 10% of all gift cards sold back to our church. You can purchase cards as needed or sign up for a monthly gift card order that will be sent directly to your home the first week of each month.
When you receive your order you will also receive a return envelope to mail your check to the church. Checks can also be dropped in the Gerber room drop box or in the plate collection. Checks should be made out to FUUBC with giant card in the memo line.
If you would like to purchase Giant cards please return the form below to Melissa at office@uuberks.org. One time cards can also be purchased from Melissa at coffee hour twice a month.
Giant cards are available in $50 and $100 increments.
Feeding Families in Family Promise (Jan. 16-26)
The time has finally come!  Family Promise will be welcoming a third family into a new shelter home on Monday!!

A huge shout out to everyone that donated furniture, household items, and cleaning supplies to help make this house a home  We are extremely thankful for Dorothy DeLong and Janet Knudsen as they spent countless hours and energy on making this home look truly beautiful.  We can't thank you enough- without all of you, we wouldn't be able to provide this additional support to the community.  Pictures of the new shelter home are available.

Family Promise of Berks County's 'shelter house' model has been very effective at helping families in a housing crisis. Families able to maintain some normalcy, learn homeownership skills, and save money. Many are 'graduating' and finding permanent housing in fewer than the 90 days allotted for the program.

Our congregation is one of eighteen around Berks County that provides meals or groceries to families temporarily living in 'shelter houses' operated by Family Promise.

We need you to drop off a meal or groceries on Mondays directly at the selected house at 6:00pm. Volunteers are encouraged to hand sanitize and wear a mask when handling food.

You can also mail gift cards for food and/or supplies directly to the Family Promise Office (325 N. Fifth Street, Reading, PA 19601) on Mon-Thur before 4:30PM. Call (610) 373-3323 to make sure someone is available.

If you have any questions, please contact Carla.

SIGN UP FOR A MEAL TIME and see the wish lists:
Coming in February – a clothing drive for Valentine's Month

.
Valentine's Month. We are wearing our hearts on our sleeves, pants, hoodies, socks, winter wear, boots, shoes, anything adults or children don. Keep this in mind as you sort through your closets and bins. Our collections will go to Hope Rescue Mission and Lighthouse to help housing compromised women, men and children in our own local community.
While this is not a Shared Plate commitment, Lighthouse and Hope Rescue Mission asked for our help in caring for unhoused children, women, and men in our own local community. More information to come in February.
Parking Update
Reading is changing its street parking procedure from meters to app only payments. Currently parking in front of the church is free during the week until further notice. Street parking is always free on Sundays and free parking is also available in the Library lot on Sundays. The parking garage does charge on Sundays. You can pay by the Parkmobile app or at the small payment station near the entrance of the parking garage (near the stairs)
Solar Panel Information Sessions
Mike M. from the Solar Team presented an update on the project during the Congregational Meeting on Sunday, December 11th. It was generally well received. In keeping with the presentation, we would like to offer follow up detailed presentations and discussions. We created a short online survey to help us find the best dates and we received 5 responses. Here are the 2 most popular options.
an in person event on Sunday, Jan 22 @ 12 PM in the meeting room at the back of the Chalice House
a online Zoom event on Tuesday, Jan 24 @ 7PM.  Here is meeting link: https://zoom.us/my/fuubc
Service Auction 2023 Update
This is not a joke: mark your calendars now, we have a date for the 2023 Service Auction: April Fool's Day (Saturday, April 1st, 2023).  This year's theme will be Here Comes the Sun  … I think it has something to do with the solar panels we are trying to add to our roof.  We are still working out all the details and we will be sharing them with you as they are finalized.  The Service Auction Team is looking for volunteers to help with the auction, watch for the sign up in the Univoice after the New Year.
Thanks
The Service Auction Team
Happy New Year, everybody! May 2023 and its fresh-slate first month be the time
for finding our center.
A ritual I have often led around the New Year is called the Coffin and Cradle. It
was written by my colleague and friend, Rev. Barbara Child. Her intern, back in
the day, was Rev. Roberta Finkelstein, who taught me the ritual when I was
Roberta's intern.
Reflecting on this ritual gave me the opportunity to think about how I look to get
centered. For me, I feel balance when I consciously connect to those around me–
when I see my life in its larger context. Centering on my identity as a UU minister,
I celebrate the lineage of rituals. How might you find your center?
The essence of the Coffin and Cradle ritual is that at the new year we are
encouraged to put into the coffin that which we need to leave behind us in the
previous year, thus the coffin metaphor. Likewise, a cradle metaphor, because in
the new year we could give birth to new dreams and plans.
In the search for finding our center, obtaining balance, we will continuously be
casting off old ideas and anything else that is not serving us any longer, balancing
that with decisions of taking on new visions, or not.
In some ways, the Cradle, that which you would like to birth this year, is like
making New Year's resolutions, but with balance. The Coffin represents the
balance, finding that center, when we are capable of letting go.
Happy New Year and Happy Searching!
In peace,
Rev. Amy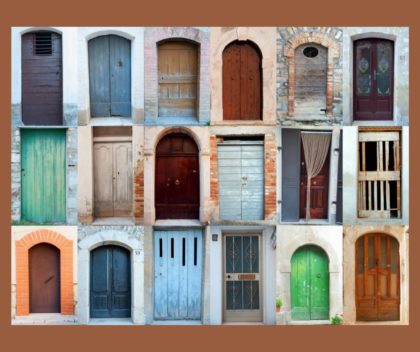 Finding our Center can be a bit like hide and seek.   We need to seek out who we are.  Do we look around the corner or further down the hallway for the person hiding?
What do we love?  What makes us feel ecstatic?  What puts a smile on our faces? What feels like the right thing to do? What feels aligned with our values?
These are choices we can make every day.
Sometimes we need to hide.  To find a spot of quiet, be in protected space.
Where do we hide that will feel like the best spot?  If the person searching for us takes a while – what do we notice when we're really quiet?  One time I was playing hide and seek with my niece and nephew.  The nibling doing the seeking was taking their sweet time and I was trying to be as quiet as possible, to occupy my waiting I started looking around my hiding place, between the wall and an open door.  I never had noticed the details in the door before.  The woodgrain was showing through behind the paint in interesting patterns.  Before too long my nibling found me and the game was set again.  This time I was the seeker in search of the hiding ones.
We seek, we find, we come to the center and we leave from that place ready to search anew.
May we all have some fun in learning what it means for us to find our center this month.
Your Director of Religious Education,
Ebee Bromley
take a moment
by nadine j. smet-weiss
spiritual director
take a moment
to attend
to your breath
follow it in
all the way
to the center
of your being
then listen
to what it
whispers
in the ear
of your heart
on the way out
live that