Weekly News for the week of:
February 5, 2023
UU Singer songwriter Andrew McKnight visits UU Berks to bring us his musical message.
---
To attend on site, FULL VACCINATION STRONGLY RECOMMENDED: FUUBC strongly encourages all those who can be vaccinated to be vaccinated, including boosters as appropriate.
MASKING RECOMMENDED: FUUBC strongly encourages attendees at worship services and other large gatherings to wear masks.
To attend by Zoom, click on this link: uuberks.org/zoom-worship. (If this is the first time you're using zoom, you may be prompted to download a launcher app).
To connect by phone (audio only):
1) Dial the phone number: 1-646-558-8656
2) When prompted for the "Meeting ID", enter: 921 4271 5512#
3) When prompted for the "Participant ID", enter: #
Please plan to arrive or log on by 10:20-10:25 am to enjoy the gathering music, and, for those on zoom, to establish a connection before worship is scheduled begins. Zoom participant mics are muted throughout the service.
This Weekend:
Tonight's Story is 

Love by Matt de la Peña (Author), Loren Long (Illustrator)

From Soul Matters: This book explores t

he many ways we experience the universal bond of love, which carries us from the day we are born throughout the years of our childhood and beyond.
SUNDAY
9:45 AM :Adult RE 
In Person: back chalice house room

Faith Formation – This week, the first Sunday of the month, will be paired, timed conversations on a topic suggested by Nadine.
9:45 AM: Children's RE  
Elementary Ages:  Onsite/Online, email Erin Connolly by Saturday noon if you'll be attending online
On site: Kidspace Classroom 2nd floor * teens may help, let us know you'll be coming
Children's RE – We play with words this morning!  Creating a chalice lighting for our time together. 
10:30- Worship Service- All Ages
We will explore the long history of our UU faith.  What are the choices Unitarians, Universalists and Unitarian Universalists made to get us to this day?    
 Youth Group 
Grades 7th – 12:
Next session – 2.12.22
Coffee Hour 
kids are invited to help with coffee hour table setting, serving and clean up.  duties to be completed by 12 noon. 
Monday – Thursday 
Weekly posts on our covenanted RE Facebook page
https://www.facebook.com/groups/UUBerks.RE.page/?ref=share
check out our Remind classroom.
If you need to signup link here: remind.com/join/refuucbc
Volunteers: January 29, 2023
Greeters: Carol Orts & Randy Newnhan
Ushers: Dennis Williams & Joanne Koehler
Coffee Crew: Carol Orts and Lauren Fritz
Contemplative Companions
Join us on Monday 2/6 @ 7:00pm  via zoom when we will ask the question, "what is the center that holds you?"  For further information, including the zoom link, contact Nadine.
UU and You — It's All of Us
Everyone is invited to the Pledge Drive Kick Off Luncheon after church in the Gerber Room on Sunday, February 26 at noon.  Mark your calendars and plan on spending some time in fellowship with your congregation.  More details on this exciting event to follow!  If you would like to help plan or carry out this event, please contact your Stewardship Chair, Vince O'Brien at uuberkspledge@gmail.com
Attention Giant Shoppers! Did you know you can shop at Giant and make money for the Church at no cost to you?
FUUBC is part of the Giant charitable grocery scrip program that gives 10% of all gift cards sold back to our church. You can purchase cards as needed or sign up for a monthly gift card order that will be sent directly to your home the first week of each month.
When you receive your order you will also receive a return envelope to mail your check to the church. Checks can also be dropped in the Gerber room drop box or in the plate collection. Checks should be made out to FUUBC with giant card in the memo line.
If you would like to purchase Giant cards please return the form below to Melissa at office@uuberks.org. One time cards can also be purchased from Melissa at coffee hour twice a month.
Giant cards are available in $50 and $100 increments.
Shut Down Berks Healing Service
On Feb 1, 2023 we celebrate no more immigrant prison in Berks County! The Berks County Detention Center in Leesport, PA is officially closed and ICE has completely vacated the facility. This is a victory for the immigrant community, for Pennsylvania, and for our nation. We've shown the power of an organized community who fights for justice and freedom.
UUBerks hosted a Healing Service for families and organizers at the church. It was really nice to see so many different faiths sharing our sacred space. You can watch the service below.
Coming in February – a clothing drive for Valentine's Month

.
Valentine's Month. We are wearing our hearts on our sleeves, pants, hoodies, socks, winter wear, boots, shoes, anything adults or children don. Keep this in mind as you sort through your closets and bins. Our collections will go to Hope Rescue Mission and Lighthouse to help housing compromised women, men and children in our own local community.
While this is not a Shared Plate commitment, Lighthouse and Hope Rescue Mission asked for our help in caring for unhoused children, women, and men in our own local community. More information to come in February.
Solar Panel System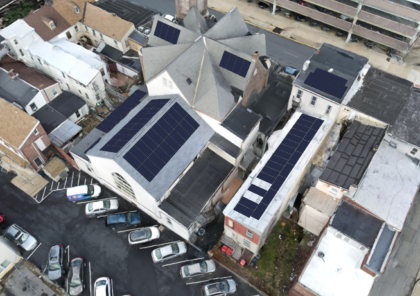 As we reported earlier, we have signed a contract with Solar States to do the engineering/design phase of our photovoltaic system. We had a Zoom call with Solar States last week to go over the preliminary plans and discuss inverters.
I am not the best person to explain things, so I asked the text-based artificial intelligence tool ChatGPT to help write this article. The ChatGPT answers are italicized below.
What is a solar string inverter?
A string inverter is a type of inverter used in photovoltaic (solar) systems to convert direct current (DC) electricity generated by the solar panels into alternating current (AC) electricity that can be used to power homes and businesses. The term "string" refers to the interconnected arrangement of multiple solar panels that are connected in series, with the output of one panel feeding into the next. The combined DC output of the panels is then fed into the string inverter, which converts it into usable AC power. String inverters are typically centralized and are located near the electrical service panel or near the point of connection to the electrical grid.
What is a solar microinverter?
A microinverter is a type of inverter used in photovoltaic (solar) systems to convert direct current (DC) electricity generated by each individual solar panel into alternating current (AC) electricity. Unlike string inverters, which are centralized and convert the combined DC output of multiple panels, microinverters are connected directly to each panel and are capable of converting the DC output of just one panel into AC power. This decentralization allows for more flexibility and increased performance, as each panel operates independently and can optimize its own output. However, microinverters are generally more expensive than string inverters and are better suited for smaller solar installations.
Can you compare solar string inverters and microinverters?
Yes, here is a comparison between solar string inverters and microinverters:
Solar string inverters:
Centralized: One string inverter is connected to multiple solar panels.
Cost-effective: They are less expensive than microinverters but the cost per panel is higher.
Less flexible: If one panel fails, the entire string is affected.
Better for larger systems: String inverters are better suited for larger systems as they are more efficient at higher power levels.
Microinverters:
Decentralized: Each panel has its own microinverter.
More expensive: They are more expensive than string inverters but the cost per panel is lower.
More flexible: If one panel fails, only that panel is affected and the rest of the system continues to function.
Better for smaller systems: Microinverters are better suited for smaller systems as they can handle lower power levels more efficiently.
Wow…I like the answers from the ChatGPT. I wish they would have had this when I was in school! I will be using it in the future to help write more solar panel articles for the Univoice.  Feel free to contact the Solar Team. Thanks
Save the Date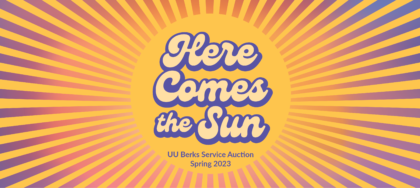 Mark your calendars: Our FUUBC 2023 Service Auction is on Saturday, April 1st.  This year, the live auction is an in-person event!!! But just like last year, we will be using the Auctria website to host the silent auctions. Watch the Univoice for more details in the coming weeks.
Have you seen our Donation Ideas page? If you are not sure what to donate, take a look for some ideas. We have found all kinds of suggestions from past auction catalogs and from other UU service auction sites and posted them on this page.  I like the idea that I saw on another UU page of purchasing 2 extra tickets to an event and putting them up for sale — it is a great way to get to know other members and it helps out our church. Homemade food items like pickles, sauerkraut, salsa or homemade fresh bread are really nice too. My favorite idea is a guided tour of a few Lancaster county covered bridges with the last stop at the Victory Brewing Company.
Finally, We need your help. Service auctions only work if there are items to bid on and people volunteer to help make it happen. Contact us at g.service.auction@uuberks.org with your questions, your suggestion & offers to help.   Many thanks from the Service Auction Committee
Parking Update
Reading is changing its street parking procedure from meters to app only payments. Currently parking in front of the church is free during the week until further notice. Street parking is always free on Sundays and free parking is also available in the Library lot on Sundays. The parking garage does charge on Sundays. You can pay by the Parkmobile app or at the small payment station near the entrance of the parking garage (near the stairs)
From Your UUA President
Rev. Dr. Susan Frederick-Gray

Happy New Year! I am sending you care as we begin another year. This, 2023, is an important year for Unitarian Universalism.

We are currently in a multi-year process to consider changes to our UUA Principles and Purpose. This process began in 2020 when the UUA Board appointed an Article II Study Commission. This is a dry name for such important work. The reason is our Principles, Purpose, covenant and Sources are contained in Article II of the UUA Bylaws.

Our seven Principles and six Sources – which we know and love – were adopted in 1985. They offered a substantial (even radical) change from what preceded them. The changes came through years of effort by UU women, particularly the UU Women's Federation, to push for greater gender equality in UUism, support for women in the ministry and to eliminate sexist language from our Bylaws, hymns, and yes, from the version of Article II passed in 1961 (at the time of consolidation).

But the changes didn't just address gender, they made significant language changes that reflected the times. It removed language of God, man, and brotherhood and added the language of interdependence and the Sources reflecting the growing theological diversity of our tradition.

As a lifelong UU, coming of age after these changes, I am grateful. They changed our movement in ways that were important for the success of women leaders, ministers, and for me, as our first elected woman President. These changes, at the time, brought fierce dissent. But more, they inspired excitement and possibility.

Why do we need a review of the Principles and Purpose?

In the mid-2010's, the ground began to shift again – much as it did in response to the women's movement. The emergence of the Black Lives Matter movement, the election of Donald Trump with his racist and misogynist campaign, and the urgent calls to confront white supremacy culture in our own movement – all of these compelled UUs to ask questions about whether our Principles reflected fully who we are and who we need to be.

By the 2017 General Assembly, there were multiple grassroots efforts to change our Principles. The first was overwhelmingly adopted, to change "prophetic women and men" to "prophetic people" to move beyond gender binary. There was also a proposal to change the first Principle from "the inherent worth and dignity of all people" to the "inherent worth and dignity of all beings." This proposal was ultimately tabled as delegates grappled with the reality that we still had a lot of work to do on living the first Principle for people. Discussions of the Eighth Principle were also happening and by 2020, hundreds of UU congregations had adopted it! The Eighth Principle recognized the need to go beyond aspirational principles to commitments to dismantle systems of oppression – calling us from aspiration to action.

It was within this context that your UUA Board appointed an Article II Study Commission to integrate these conversations and lead a discernment process for our whole Association about core values, covenant, and purpose. The Board gave the Commission a broad charge to review, change, or reimagine Article II to "enable our UUA, our member congregations, and our covenanted communities to be a relevant and powerful force for spiritual and moral growth, healing, and justice."

After two and a half years of study and conversations with thousands of Unitarian Universalists, the Article II Study Commission submitted their report and proposal to the UUA Board of Trustees for its January 20th meeting.
Read the Report & Proposal
This spring, congregation delegates and the Board can propose amendments to the proposal. The proposal and amendments will be considered at General Assembly this June and a majority vote is required to continue consideration at GA 2024. If any of the delegate amendments are accepted, and if the proposal receives majority approval, then the Article II Study Commission will make any necessary changes to create a final draft for consideration at GA 2024. The final proposal will require a two thirds majority vote at GA 2024 to be adopted.

Seven years ago, when I was beginning my campaign for UUA President, I approached the process with an intention to be open to the process while letting go of outcomes. My hope for us as Unitarian Universalists is that we approach discernment about Article II with similar openness. May we enter our conversations with a spirit of curiosity, holding off attachment to outcomes, and listen with our whole hearts and to the fullness and diversity of voices in our community. May the process itself deepen our understanding of and commitment to our faith.

Love, Susan
Our theme is love. Even though February is all about hearts and Valentines Day,
the love on my mind is not flowery or romantic. The love on my mind is an action
more than a feeling, and sometimes it looks more like hard work than pleasure.
When we say to someone dear, "I love you" it is not just a feeling, it is a statement
of intention. When I tell one of my kids that I love them, it also means that I
extend that love unconditionally, that sometimes I will push them into discomfort
for a greater good, and that I will fight adversity for them or with them, because of
my love for them. It is an action word.
Around this congregation that is so well loved, what are some of the love actions
you see or know about? What active ways do you love UU Berks? Certainly the
Building Keepers love the building. One might not equate love with using tools or
free time to make an edifice safe and beautiful and fuel efficient, but love is an
action word there.
Serving on a committee or board, leading kids or adults during RE, signing up to
help with worship or coffee hour, and so many other ways to show up; these are
gifts we give to our congregation so that we might belong to the church of our
dreams and wishes. Being involved is a commitment of love, to ourselves and to
each other. Our feelings of love compel us to action, which strengthen community.
When we say, Love wins, that is what is meant. Actions done from a place of love
will always be a win/win situation, not part of a zero sum game where if somebody
is being loved it means somebody else is not. Love grows the more it gets used; it
is not a limited commodity that should be hoarded.
Whether in your personal life, or at church, or wherever you find yourself in
February, show yourself some care by expressing your love freely, through actions.
Love wins and so do we when we let it grow.
In peace with love,
Rev. Amy
A playlist that love built …
From Your Director of Music Elizabeth Bromley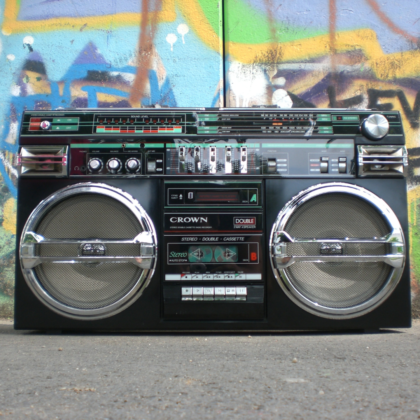 Have you ever been gifted or have you ever gifted to someone a playlist?  Was it to give to a new love?  Was it to share with an old friend?  Was it to help you mark a season of life?
Whether it was through 8-track, tape, cd, or digital link – I bet in whatever format it was created,  it was created from love.
As we live into this month of exploring "the path of love", I'm reflecting on how throughout time, one of the roles music has played is to capture great emotions and actions like love.
For as J.D. McClatchy said "Love is the quality of attention we pay to things"
It takes some attention to choose songs and to listen closely to what someone has shared with you.
I'm curious what your mixtape of your relationship with Unitarian Universalism would be.  What's the first song that you remember?  What song makes you think of UUism?
Here's a sample from mine:
#188 Come, Come, Whoever You Are
#396 I Know This Rose Will Open
Beth Norton's "There Is A Love"
#123 Spirit of Life
Meg Barnhouse's "All Will Be Well"
#311 Let It Be A Dance
Barenaked Ladies' "If I Had A Million Dollars" (were you here for the service in Dec where we sang this?)
#1064 Blue Boat Home
#1009 Meditation on Breathing
Way too many left on the cutting room floor for this list of 10.  Share with me – what would make it on your list this year?
by nadine j. smet-weiss
spiritual director
to thine
own self
be love
what part
you wonder
i have
so many
parts
be love
to that
which
you
find
most
unlovable
in you
and
from that
place
of loving
that part
of you
be love
in
the world