Weekly News for the week of:
March 12, 2023
---
Three Years Ago, Navigating this Labyrinth of Grief
March 12, 2023 at 10:30 am Rev. Amy DeBeck
Rev. Amy checks in on how church, in general, and people, in general, are doing after the world shut down three years ago.
---
To attend on site, FULL VACCINATION STRONGLY RECOMMENDED: FUUBC strongly encourages all those who can be vaccinated to be vaccinated, including boosters as appropriate.
MASKING RECOMMENDED: FUUBC strongly encourages attendees at worship
services and other large gatherings to wear masks.
To attend by Zoom, click on this link: uuberks.org/zoom-worship. (If this is the first time
you're using zoom, you may be prompted to download a launcher app).
To connect by phone (audio only):
1) Dial the phone number: 1-646-558-8656
2) When prompted for the "Meeting ID", enter: 921 4271 5512#
3) When prompted for the "Participant ID", enter: #
Please plan to arrive or log on by 10:20-10:25 am to enjoy the gathering music, and,
for those on zoom, to establish a connection before worship is scheduled
begins. Zoom participant mics are muted throughout the service.
On Sunday, March 12th, the Membership Committee will host a Considering Membership Class following service. This event provides an opportunity for us to highlight the unique qualities and aspects of our church and its faith – and allow you to ask questions. We will meet in the Sanctuary immediately following coffee hour.
This Weekend:
Tonight's Story is Emmanuel's Dream: The True Story of Emmanuel Ofosu Yeboah words by Laurie Ann Thompson, illustrations by Sean Qualls.

Soul Matters shares:This book celebrates the vulnerability of Emmanuel and the hope for a good life.
SUNDAY
9:45 AM :Adult RE
In Person: gerber room meeting room

Faith Formation – Second Sunday in March: this coming Sunday we'll each be sharing an example of a Love Language that we've used with a beloved, and also that we've received from a loved one.
9:45 AM: Children's RE
Elementary Ages: Onsite/Online, email Erin Connolly by Saturday noon if you'll be attending online
On site: Kidspace Classroom 2nd floor * teens may help, let us know you'll be coming
Children's RE – Hope is a thing with Feathers … For this lesson, we reflect on how hope takes vulnerability.
10:30- Worship Service- All Ages
This morning we reflect on the last 3 years.
11:30 – 12:00 Youth Group:
Grades 7th – 12: meet for worship then have our own coffee hour time in the chalice house.
10:30 – Our Whole Lives: OWL, 4-6
Session 6 of 10: This ten-workshop curriculum is designed to help children ages nine through twelve to gain the knowledge, life principles, and skills they need to understand and express their sexuality in holistic, life-enhancing ways. Like the other Our Whole Lives programs for different age groups, this comprehensive, developmentally appropriate program introduces key topics like values, body image, gender and sexual identity, peer pressure, and healthy relationships with sensitivity and inclusiveness, yet without specifically religious doctrine or reference. There is a mandatory parent/child orientation.
Monday – Thursday
Weekly posts on our covenanted RE Facebook page
https://www.facebook.com/groups/UUBerks.RE.page/?ref=share
check out our Remind classroom.
If you need to signup link here: remind.com/join/refuucbc
March's Special Plate Collection
This month our special plate collection will benefit
Planned Parenthood
. Checks may be mailed into the church, put in the collection plate or dropped on the wooden box in the Gerber room, throughout the month. Checks should be made out to FUUBC with Planned Parenthood in the memo line.
Sunday Volunteers:
Greeters: Lisa F. & Stephanie H.
Ushers: Corinne H. and Dennis W.
Coffee Crew: Scott and Ann G.
Attention Giant Shoppers! Did you know you can shop at Giant and make money for the Church at no cost to you?
FUUBC is part of the Giant charitable grocery scrip program that gives 10% of all gift cards sold back to our church. You can purchase cards as needed or sign up for a monthly gift card order that will be sent directly to your home the first week of each month.
When you receive your order you will also receive a return envelope to mail your check to the church. Checks can also be dropped in the Gerber room drop box or in the plate collection. Checks should be made out to FUUBC with giant card in the memo line.
If you would like to purchase Giant cards please return the form below to Melissa at office@uuberks.org. One time cards can also be purchased from Melissa at coffee hour twice a month.
Giant cards are available in $50 and $100 increments.
Annual Service Auction – April 1st!
Mark your calendars: Our FUUBC 2023 Service Auction is on Saturday, April 1st. This year, the live auction is an in-person event!!! But just like last year, we will be using the Auctria website to host the silent auctions. Watch the Univoice for more details in the coming weeks.
Here is the link to the auction website: uuberks.org/service-auction.
You will need to register/purchase a ticket to be able to bid on Silent auction items & attend the Live Auction. The ticket is good for one adult entry into the Here Comes the Sun Service Auction — kids are free. There will be complimentary drinks, appetizers & desserts at 6PM, followed by the live auction at 7PM. Your $10 ticket purchase will help us cover the cost involved in running the auction.
As part of the registration process, you will be asked for a credit card number because we will be using the website to collect payments. This will make it much easier for us, but if you don't want to use a credit card, we can register you to pay with a check that you can mail to the church. Send us an email at g.service.auction@uuberks.org or call the church for this option.
To register and purchase a ticket, go to the auction website using the link above. Once the home page loads, you will see a menu across the top of the page (look for the line with "Home", "About", "Register",…).
To register and purchase a ticket, click on the "Register" link on the menu and a new page will open. On the new page, click on the "add to cart" button next to the Auction logo near the bottom of the page. The button will change to a "Checkout" button, click on it. A Shopping Cart page will open. On this page you can add a donation and leave a comment. Click on the "Continue to Contact Details" page to continue your registration.
The Account page will open. Enter a password and confirm it. When you are done, click on the "Continue to Guest" button. A summary page will open. Click on the "Continue to Payment" button to open the next screen. Enter your credit card information and make sure to check the "Save this card for later". Click on the "Continue to Review" button to go to the last page and purchase your ticket. On the "Review Checkout" page, confirm the details, check the "I agree to the standard terms of use" checkbox, and hit the "Complete Checkout" button. If you check your email, you should have an email receipt with your ticket and your bidding number.
These instructions may make it seem that the registration process is difficult, but it is not. We are using a standard registration form offered by the Auctria website. Millions of people have used this form successfully, including dozens of our own members. Finally, if you would like to volunteer to help with the auction or have a question/suggestion, send us an email at g.service.auction@uuberks.org. Many thanks from the Service Auction Committee.
---
Service Auction Volunteers Needed
As you know, our church community is built on a foundation of love and support, and we are always looking for ways to come together and strengthen those bonds.
This event is the perfect opportunity to do just that. We are in need of "service type" auction items (meals, hikes, craft parties,…), volunteers to help with various tasks, including setup and cleanup, food service, and event coordination. Whether you have experience in these areas or not, we would be grateful for any time and effort you can offer.
Volunteering is a great way to get to know your fellow church members, and it provides an opportunity to serve your community in a meaningful way. By participating in this event, you will not only be helping to create a fun and memorable experience for everyone involved, but you will also be contributing to the larger mission of our church.
We understand that everyone has busy schedules, but we hope that you will consider making time to be a part of this event. Your support will be greatly appreciated, and we promise it will be a rewarding experience for you as well.
If you are interested in volunteering or have any questions, please contact us at g.service.auction@uuberks.org. We would be happy to provide more details and answer any concerns you may have. If you are ready to volunteer to help, please sign up here
---
Parents and Guardians!
We hope to have a mini raffle/auction just for kids during the annual UU Service Auction (real prizes, fake $) We need to know how many children will join Melissa and Erin in the KidzSpace. Please RSVP with the link below so we can get a head count. In the comments, note any food, allergies/sensitivity. Also, let us know if your child would like to donate an item to their mini auction (art, craft, service, game, toy, etc)
https://www.signupgenius.com/go/30E0D4BAEAA2CA13-uuchurch/3084023
Are you curious what it would be like to be with UUs from all over the country and continent, right in our backyard? Make sure to register for General Assembly happening this June from the 21st – 25th! You can register for a day, a few days or full meeting. Check out https://www.uua.org/ga for more information.
Solar Panel System

Net Metering
In most states you can receive credit for any excess electricity your solar panels generate that you feed back in the electrical grid. This is called Net Metering.
When the solar panels are producing more electricity than what is being used in the building, the electricity will flow back into the grid. The electrical company will keep track of the electricity going back into the grid. At the end of the billing period, the electrical company subtracts the electricity you generated from what you used. If you generated more electricity than what you used, the generation charge on your bill will be 0 and you will receive credits that you can use during a future billing cycle.
Here in the northern United States, solar panels generate the most electricity around the month June when there is a lot of daylight. Around December when there are fewer hours of daylight and the sun is low in the sky, they generate less electricity. Once we have the solar system this means that from April through August, we probably won't have a generation charge on our bill and we will be receiving credits that we can use to lower our bills from October through March. This also means that during the summer when we are using a lot of electricity to cool the building, most of that energy will be coming from the solar panels. If you have any questions about the solar project, send us an email at g.solar.team@uuberks.org. Watch the Univoice for updates.
Parking Update
Reading is changing its street parking procedure from meters to app only payments. Currently parking in front of the church is free during the week until further notice. Street parking is always free on Sundays and free parking is also available in the Library lot on Sundays. The parking garage does charge on Sundays. You can pay by the Parkmobile app or at the small payment station near the entrance of the parking garage (near the stairs)
Truth can be shared with anybody, and honesty is good. Most of philosophy involves pondering if Truth is an objective value, or subjective. People tell THE truth and that is called honesty. But when people share THEIR truth, expressing their innermost, private truths, well, that is vulnerability.
While telling the truth can lead to trouble, typically the truth is factual, and so any attacks made on the truth teller will be about the facts. But when a person is vulnerable and shares their truth, any attack on the truths shared are aimed directly at the person, for who they are.
Vulnerability is important to building relationships because, while we get to know each other in many ways, sharing the deepest part of us is best shared with folks we trust. That trust-building through being vulnerable is tricky, because it leaves us open to risk and hurt. This is why vulnerability is a strength, not a weakness; it takes great courage to risk being rejected or laughed at or not believed or supported because we dared to share what our own truth is.
Religious communities, at best, are places to be vulnerable, to take risks. It is a deep honor to deeply know another person and what is in their hearts. Being vulnerable, thoughtfully sharing truths that will be held carefully and solemnly by others, is how we build Beloved Community. Obviously, other means help as well, like laughing together or engaging in common work, but our truths make us who we are. While we should be honest with everyone, we can choose when to be vulnerable and with whom.
This month I encourage all of us to look inside. Decide how vulnerable you feel like being in any given moment, and then check your courage level and see if maybe you might have a little more. Share your truths and be known. Take the risk, or be the support for another person who is clearly trying out their vulnerability levels. We are all in this together, and love is always worth the risk.
In peace with love,
Rev. Amy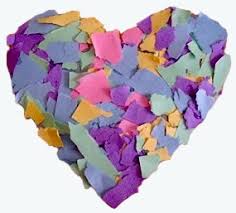 "Vulnerability is the birthplace of love, belonging, joy, courage, and creativity. It is the source of hope, empathy, accountability and authenticity." Brené Brown
Taking in Brown's quote on vulnerability this month my mind turned to a story. Do you remember hearing the story of The Mish Mashed Heart? In the story, a young child, Milly, works diligently at an all church craft event. Everyone there was encouraged to design a heart with the materials before them. So Milly sets out to create her most perfect heart. When she was done with it, Milly's heart even had glitter in the shape of diamonds all around the outside.
As Mily was helping clean up she noticed an elder sitting at a nearby table. This elder's heart was all mish-mashed. It looked a mess, there were colors that didn't go together and parts that were wrinkled and the glue was just all over the place – there even was a little hole in the heart!
Thinking something was wrong, Mily went over and asked her elder if she could help fix this heart. The elder smiled, thanked Mily but explained that there was nothing wrong with his heart. It merely revealed all the things that happened to him in his life so far. He pointed out all the beautiful parts and shared what he recalled. Mily wasn't satisfied with this – "But what about all the rips and wrinkles?" Well those were from the times that his heart broke and also the times that he met important people to him. "In fact, every time a person comes into my life that I care about," he explained, "they take a piece of my heart with them"
This all felt very scarry to Mily – "But what happens if you give it all away?" she asked. "You'll be left with nothing."
"Ah, but you see, no I won't," the elder replied. "Because you see, sometimes they give me a piece of theirs as well."
And in that moment Mily, held her beautiful, perfect heart with the glitter and designs she worked so hard to make. She looked over at the elder's mish-mashed one with all the wrinkles and jagged colors and rips. In that moment Mily chose to rip a piece of her perfect heart and then handed it to the elder.
"Thank you," the elder said as he placed it with his mish-mashed heart and tore off a piece of his to hand to Mily.
We have unique opportunities at church this spring to choose vulnerability. To choose to break our own hearts open. Where will you choose to do so? Where have you chosen to do so? Has it been in OWL? Did you feel a bit vulnerable choosing to try out UUBerks in the first place?
Maybe you might choose to attend one of our Family taking flight sessions in March? Or possibly you will take a risk and sign up for our new Mystery Pals Program starting this April. We're looking forward to sharing more about Mystery Pals soon.
Can't wait to see what you choose and witness what our collective heart will become this March as we focus on what it means to travel the path of Vulnerability!
With Faith and in Community,
Ebee
by nadine j. smet-weiss
spiritual director
each heartbeat
each breath
each moment
a gift
not a given
how much to care
what to share
when to dare
the gift
risked
heart open
embracing other
courageous action
the gift is given
for the living