Weekly News for the week of:
November 28, 2021
As we move toward the winter holidays, we enter what has been, since most ancient times, the season of expectation and preparation. This morning we reflect on what it is we are waiting for. What are we preparing for? This Sunday is also the first Sunday of Advent, and we will honor Advent, UU style, by lighting the first of five candles, a purple one, for hope. You may view or download the UU Berks Advent Candle Wreath here.
Tonight – FRIDAY
7:00 PM:
For this week's story we get to hear Stolen Words by Melanie Florence. Tonight's story is all about telling the truth about something that happened to Native peoples across North America. It's about a grandfather who was sent to a residential school as a child and had his language, name and culture taken away. It's a good reminder how history needs to include the truthful stories of what happened to Native Peoples. By knowing the true story, all peoples can start to heal. Let's listen to the story together!"
SUNDAY
9:45 AM RE Hangout
Seeds, Sprouts and Saplings (elementary ages): in RE Hangout Zoom Room with Ms Corinne & Ms Cyndi
RE Hangout – kid directed – A morning where the kids choose what to do. Longer checkin.
link sent via Remind 1 hour before class. If you need access please email Ebee (director.religious.education@uuberks.org)
10:30
For All: Join us in exploring our first Sunday of Advent.
Coloring Sheet: "Love Is The Spirit Of This Church" by DRE serving greater UU faith Jenn Blosser.
Use a printed or hand labyrinth to find renewal as you attend worship this morning. Here's a labyrinth you can print out and trace. Labyrinth Printable
10:45 – 11:45
Youth Group (7th grade & up): first workshop of the year held in one weeks 12/19
Monday – Thursday
Daily posts on our new covenanted RE Facebook page
https://www.facebook.com/groups/UUBerks.RE.page/?ref=share
check out our Remind classroom.
If you need to signup link here: remind.com/join/refuucbc
Save the Date
Mark your calendars for our winter congregational meeting to be held on December 12th following service. This meeting will be multi platform for members in person and via zoom. The Board of Directors encourages your participation. These semi-annual meetings strengthens our covenant together Zoom participation will continue through the Sunday Service link uuberks.org/zoom-worship.

ADORE Listening Cafe
December 12th at 7pm
December's ADORE Listening Cafe will focus on the problem of homelessness and housing insecurity in communities of color. This is a chronic problem in several communities of color and must be addressed. Join us for a thoughtful discussion on how these problems began, how they are manifesting themselves now and more importantly, how we can help our friends in these communities. It is important to remember those who are struggling during this holiday season, and for those who lack the basic need of housing, this can be a challenging time.
We invite all in our community to listen with an open heart, to ask questions and to share your stories at the Adore Listening Café, and, please, encourage friends and family to join in the dialog.
Wrapped Gifts to be dropped off at church or arranged with Kent or Rachel Gutzler for drop off or pick up prior to Nov. 29th.
If you do not want to shop, but want to buy a child a gift, We will shop for you. Donations can also be pooled if $25 is not in your budget, but $5 is in your budget.
Any questions, call Kent at 610-780-5162

Our Giving App has Changed
Vanco, the eGiving provider behind our church's GivePlus Mobile app is now using a new online giving app, Vanco Mobile. This easy-to-use app replaces the GivePlus Mobile app you currently use to make your donations.   The switch is simple!  
Your log-in credentials are the same in Vanco Mobile as in GivePlus Mobile 
Recurring created through GivePlus mobile will continue as scheduled  
New gifts, or changes to previously scheduled recurring gifts, can now occur through Vanco Mobile 
Download the free Vanco Mobile app today in the Google Play store or the Apple App store. Find our organization by searching for First Unitarian Universalist Church or by its invite code, 2S4C9G.   
UU  Berks Websites 
Our church has 2 websites: one is public and one is private. Anyone on the Internet can access our public website at uuberks.org, but you have to be a member of our congregation to access the private UUBerks Member Info site at member-info.uuberks.org. Access is restricted, so you need to login with your email address & password.
Our public website has a lot of information that is also useful for members. Did you know that we record a video of every worship service and post them on our website? 
To find the recordings, navigate to uuberks.org. At the top of the page, there is a green box on the right side of the screen, with the title "Next Service". (A) If you click on the next line of text (the title of the next service), you will be taken to a page with all the information about that service, like the Zoom meeting details. 
At the bottom of the green box, there is a "Service Archive" button. (B) Click on it to navigate to a page listing all of our previous services.  Click on a service title to see more details about the service and to view the video recording.

Are you having trouble connecting to Zoom services?
We have established a Zoom service tech line if you are having trouble logging into our Sunday service. If you do not get an immediate answer, leave a message and your call will be returned momentarily.Dial 484-925-1684.
To Hold and Make History Holy


from Rev. Sandra's Study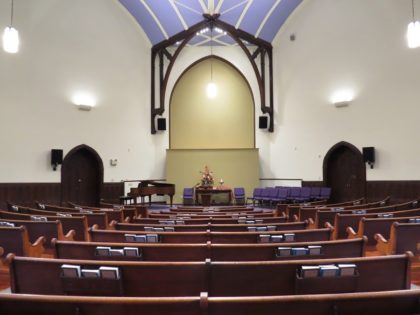 The prophetic tasks of the church are to tell the truth in a society that lives in an illusion, grieve in a society that practices denial, and express hope in a society that lives in despair.

Walter Brueggemann
November marks a turning – a seasonal turning, a liturgical turning, and an emotional one. The days grow shorter, nights longer. We anticipate the family-oriented celebrations at Thanksgiving, Christmas, and New Year's. How will we make the turn this year? How will we tell the truth? How will we begin the process of holding the history of our traditions with the many changes we are undergoing?
This month, several services and rituals vital to our church community will support us in navigating these questions. At the beginning of the month, Dia de Los Muertos offers us a time to, as Walter Brueggemann writes, "grieve in a society that practices denial." Actually though, we do something even more countercultural. We learn from the Mexican tradition how we might approach death less grimly and with more of a spirit of joy.
Later in the month, we gather in our church community to express gratitude and to reflect on what it means to be thankful – even amid suffering. We also have the opportunity to come together on the eve of Thanksgiving with the interfaith community to worship, learn, and be in community.
And on the last Sunday in November, we, as Brueggemann writes, "express hope in a society that lives in despair" by lighting the first candle of Advent. I look forward to seeing you in person and virtually for these many opportunities for us to hold and make history holy.
Yours in love, Rev. Sandra
---
Chalice Lighting for November's theme of Holding History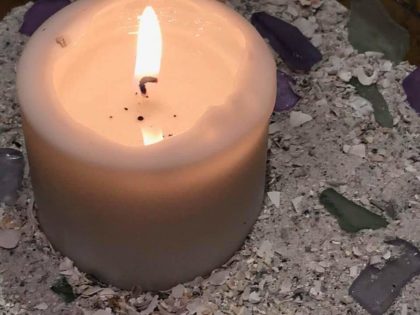 Who have you lit your home chalice with? Who will you light it with? Your cat? Your dog? Your loved ones around the table? Robin Slaw, masters level DRE at the Unitarian Universalist Congregation of Columbia, Maryland; a soul matters congregation, created this chalice lighting to share with us.
We hold history when we light our chalice.
We allow the memory of loved ones to guide us,
to comfort us in times of trouble,
to bring us joy in remembering.
 
We stand on the shoulders of those who came before us,
we square our shoulders for those who follow,
to stand on our shoulders and move the work forward.
 
We hold up the painful parts of our past,
remembering the times people were marginalized,
promising to do better when we know better.
We recognize the impact we have on those who follow us,
just as we have been impacted by the actions of those who came before,
holding awareness of the earth and all her creatures.
We light our chalice to hold the history of what came before,
what will follow as history yet to be created,
and to shine our light brightly in our world.
---
by nadine j. smet-weiss
spiritual director
 
we are 
living history
born of egg
pierced by sperm
embodying
the horrors
and the hopes
of our ancestors 
forward
the ongoing story
of creation
sounding through us
may we 
consciously choose  
to honor their legacy 
being the change 
becoming the dream