Weekly News for the week of:
December 19, 2021
Join us for a festive celebration of the winter holidays with lessons and carols of the season. We will light the fourth Advent candle for love, UU style, and you may view or download the complete UU Berks Advent Candle Wreath lighting here.
Tonight – FRIDAY
7:00 PM:
For this week's story we get to hear The Treasure as told by Rabbi Nachman – To find treasure and joy, one must travel to Tzaddik.
SUNDAY
10:30
For All: love the guest, the star, the child
Coloring Sheet: "Love Advent Page" found by UU at large Lizzie Vena.  
Use a printed or hand labyrinth to find renewal as you attend worship this morning. Here's a labyrinth you can print out and trace.  Labyrinth Printabl

e
10:45 – 12:15
**** different time – RE Hangout – Sunday Afternoon *** 
*** 12:30-1:30
Seeds, Sprouts and Saplings (elementary ages):**** this week we meet outside. If you'd like to signup for our craft day and for more info visit https://uuberks.org/RE-Outdoors
Feed the Birds with Ebee Bromley & Lisa Wilder come light a chalice, have a scavenger hunt and craft bird feeders.  Supplies put together by you and Lisa Wilder. 
directions reminder sent via Remind 1 hour before class.  If you need access please email Erin (epcjjc@gmail.com)  
Monday – Thursday 
Posts Tuesday-Sunday on our new covenanted RE Facebook page 
https://www.facebook.com/groups/UUBerks.RE.page/?ref=share
check out our Remind classroom. 
If you need to signup link here: remind.com/join/refuucbc
Christmas Cookies Needed
Everything looks a little different this year, including our Christmas Eve coffee hour. We would like to be able to offer take home cookies after service but are in need of cookies. Cookies will need to be dropped off at the church on December 21st and 22nd. Please contact Melissa at office@uuberks.org if you are able to donate cookies or would like to help with cookie bag assembly. Your help is greatly appreciated.

Worship services for Dec. 26 and Jan. 2 will be online only (no onsite service). The Dec. 26 service explores the meaning of Second Christmas, with reflections by Tracie Greth. The Jan. 2 service is being hosted by the UU Church of Lehigh Valley, led by Pastor Madelyn Campbell. Details and sign on links will be provided in the weekly news.
Important Update on Congregational Singing
Beginning Sunday Dec. 19, we will resume congregational singing – masked. We know that music and singing nurture our hearts and minds. In making this decision, we have taken into account the Church's Covid precautions already in place, which include required vaccination, universal masking, and enhanced ventilation. We do encourage members and friends to consider their own comfort levels and make an informed decision about whether to participate online or onsite.
A Message From The Church Office:
Our Church office will be closed for the Holidays beginning on 12/24/21. Our office will open again on January 4th.
FUUBC Food Bank Coordinator & Volunteers Needed!
The food bank that FUUBC organizes on the first Thursday morning of every month at the parking lot located on 5th and Cherry streets, needs more volunteers, including for the coordinator role. This is a great opportunity to help in our community and engage with people from diverse backgrounds ! 
Coordinator role – Brian Kammerer needs to step down from this job, but there will be opportunities to shadow him and get extensive training if you are interested in helping in this way. The responsibilities require approximately 4-6 volunteer hours per month, with most of that time needed for the food distribution day.
Tasks* include: 
transporting tables, chairs, and other items to the site at 8am
managing volunteers that morning, and clean-up. 
ordering food online and filling out paperwork for Healthy Harvest (who provides the food and oversees operations)
making other purchases for materials as needed (with provided funds)
other communication with church staff/leaders. Spanish skills are a plus. 
*Note: It might be possible for other volunteers to help with one or more of these tasks, so please let us know what you are capable of doing for this role
Other volunteers are needed asap on the day of food distribution for food setup, distribution of food, registration and communication with recipients (Spanish fluency would be helpful), and clean-up. Training will be provided.
Contact the Ministry and Operations Team (g.ministry.and.operations@uuberks.org) with questions or to volunteer. Or speak with Tonya Wenger or Rev. Dr. Sandra Fees.
ADORE Listening Cafe
January 7th at 7pm
Unfortunately we had to postpone our December Listening Cafe due to a family emergency of our scheduled presenter. Michelle Williams will be with use for our January 7th meeting. We will focus on the problem of homelessness and housing insecurity in communities of color.
We invite all in our community to listen with an open heart, to ask questions and to share your stories at the Adore Listening Café, and, please, encourage friends and family to join in the dialog.
Mark Your Calendars
Our FUUBC 2022 Service Auction is on Saturday, February19th @ 6 PM.  Following social distancing recommendations, our auction will be conducted fully online like last year.  We will be using the same online auction website to host the silent auction for the week before & after, and Zoom to conduct the live auction on Saturday night. If you would like to volunteer to help or have a question/suggestion, send us an email at g.service.auction@uuberks.org. Many thanks from the Service Auction Committee. Watch the Univoice for additional information.

Our Giving App has Changed
Vanco, the eGiving provider behind our church's GivePlus Mobile app is now using a new online giving app, Vanco Mobile. This easy-to-use app replaces the GivePlus Mobile app you currently use to make your donations.   The switch is simple!  
Your log-in credentials are the same in Vanco Mobile as in GivePlus Mobile 
Recurring created through GivePlus mobile will continue as scheduled  
New gifts, or changes to previously scheduled recurring gifts, can now occur through Vanco Mobile 
Download the free Vanco Mobile app today in the Google Play store or the Apple App store. Find our organization by searching for First Unitarian Universalist Church or by its invite code, 2S4C9G.   
UU  Berks Websites 
Our church has 2 websites: one is public and one is private. Anyone on the Internet can access our public website at uuberks.org, but you have to be a member of our congregation to access the private UUBerks Member Info site at member-info.uuberks.org. Access is restricted, so you need to login with your email address & password.
Our public website has a lot of information that is also useful for members. Did you know that we record a video of every worship service and post them on our website? 
To find the recordings, navigate to uuberks.org. At the top of the page, there is a green box on the right side of the screen, with the title "Next Service". (A) If you click on the next line of text (the title of the next service), you will be taken to a page with all the information about that service, like the Zoom meeting details. 
At the bottom of the green box, there is a "Service Archive" button. (B) Click on it to navigate to a page listing all of our previous services.  Click on a service title to see more details about the service and to view the video recording.

Are you having trouble connecting to Zoom services?
We have established a Zoom service tech line if you are having trouble logging into our Sunday service. If you do not get an immediate answer, leave a message and your call will be returned momentarily.Dial 484-925-1684.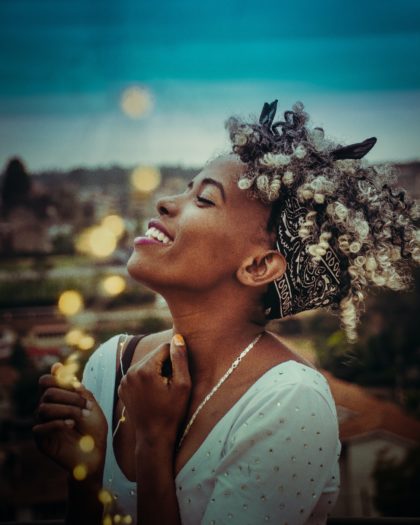 From Sandra's Study by Rev. Dr. Sandra Fees
Even a wounded world is feeding us. Even a wounded world holds us, giving us moments of wonder and joy. I choose joy over despair. Not because I have my head in the sand, but because joy is what the earth gives me daily and I must return the gift.

Robin Wall Kimmerer
Joy exists even in a hurting world. This month we are exploring how we open to joy. Joy isn't a static state that we arrive at. Instead it's an experience we encounter when we stop and notice wonder, when we notice the gifts that the earth offers us on a regular basis. How can we do better at being captivated by joy every single day in some small way?
Designer and author, Ingrid Fetell Lee, encourages the simple practice of "Joyspotting." Joyspotting is paying attention and savoring images and experiences of joy. Keeping a joy notebook is a great way to engage this practice.
Take a moment right now as you read this to bring to mind one joy from today. My list (because why stop at just one joyful moment?!) includes:
Playing laser lights with my cat Belle.
Lunch with a friend.
Leaves of many colors.
Sun streaming through clouds.
Receiving a note of appreciation.
Snuggling in front of the fire.
Laughter.
Twinkle lights.
I hope this month you'll take a little time to identify at least one joy every day. What an incredible gift that would be to yourself. What a meaningful way to honor the gifts of this earth.
I wish you many moments of joy in this holiday season.
With love,
Rev. Sandra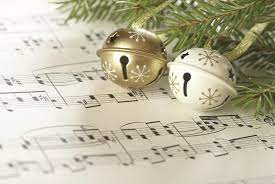 uuberks.org/wp-content/uploads/2021/11/christmas-music–272×182.jpeg 272w" width="275″ style="border: 0;height: auto !important;outline: none;text-decoration: none;-ms-interpolation-mode: bicubic;">
This month our collective focus at UUBerks is exploring ways in which our times call us to "Open to Joy."  
Certainly the music of this month often resounds with Joy.  A lot of songs tell us to be joyful "Rejoice! Rejoice! Rejoice Greatly!" Handel wrote.  He also has that lasting ditty "Hallelujah." There's more recent additions to the Christmas season cannon wishing everyone "Happy Holidays," and "We Wish You a Merry Christmas," and have us scurrying all about in Jingle Bells's scene of "dashing through the snow!" 
Sometimes though, all of this expected merry making is just a bit overwhelming.  Sometimes my heart grows three times smaller and more closed off as we are told to be joyful when … insert awful personal, local or global tragedy here … and the Christmas machine keeps humming. 
But there are quieter songs, sadder songs, wishful and wistful songs too.  Songs like "River" by Joni Mitchell, hymns like Still, Still, Still, or sneakier songs with joy and sorrow like Judy Garland's classic recording of "Have Yourself A Merry Little Christmas." 
It's songs like these that help me reopen to joy after the sonic joyful onslaught of tinsel and jubilation.  What do you hear in the songs of the season? Do you hear the reindeer approaching?  Do you hear the joy?  Does what you hear help you reopen to joy? I hope so. 
nadine j. smet-weiss
spiritual director
a hidden jewel 
buried deep 
in our 
human hearts
ever ready
to refract
the delight
of our being
joy surprises